Welcome to the Pauli Ford Parts Center - Get Ford OEM Auto Parts in Saint Johns, Michigan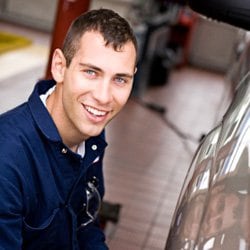 The time may come when your Ford car, truck, or SUV requires a replacement part, or you're looking to upgrade a certain component of your vehicle to enhance the performance or power. For all thing Ford parts and accessories, you can look to the expert team at the Pauli Ford Parts Center to find the exact fit for your Ford year and model. Why waste time and money taking a chance by purchasing parts from an online auto parts store? We can assure you that our team at Pauli Ford will locate the exact part that you need from our catalog, and can guarantee an exact fit and excellent quality because we use only Ford OEM parts for your vehicle.
---
Proudly Serving Saint Johns, DeWitt, East Lansing & Lansing, MI
When you receive genuine Ford parts, you know for certain that your vehicle will continue performing at optimal levels, whereas off-brand parts and accessories tend to be cheaply made, lack the correct fit, or will fail to last as long as the other genuine components of your Ford vehicle. Whether you wish to order the parts and do the installation yourself at your home around Bath or Ovid, or have one of our certified service technicians complete the job for you in a professional and timely manner, the choice is yours. However, we do recommend our highly-trained and professional touch, so you can save the time and hassle of doing it alone.
Find Genuine OEM Ford Parts in Saint Johns Today!
You can count on our Parts Center to find exactly what your Ford car, truck, or SUV needs, and we will get it to you quickly. You can fill out a Parts Request form online, or if you are unsure of the exact parts that you need, feel free to contact us at (888) 884-0849 or visit us at our convenient location at 2380 South U.S 27 in Saint Johns, MI. We look forward to finding the part you need so you receive the long-lasting quality Ford provides drivers.