Trust the Mechanics at Pauli Ford to Keep Your Vehicle Running Smoothly on the Streets of Lansing, Ovid, DeWitt & Saint Johns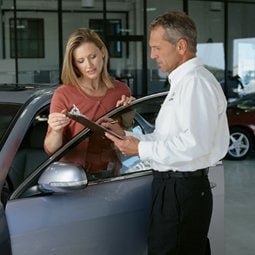 Have you been looking for the right solution to any vehicle service needs or issues that might unexpectedly arise? Fortunately, our staff of expert mechanics at Pauli Ford are here to assist all drivers from our Lansing area Ford service center in Saint Johns! Whether you're in need of an oil change, routine maintenance check, vehicle inspection, parts replacement, or just a voice of reason during the repair process, our Service & Repair Center is the best place to turn to for assistance in the Central Michigan region.
We Proudly Serve Drivers from Bath, Ovid & East Lansing
If you've bought a new Ford vehicle from our dealership, such as a Ford F-150, Edge, Escape or Mustang, it's important to have a support system in place for any unexpected accidents or damages. By putting your trust in the certified Ford technicians on our service staff, you're able to take advantage of their impressive skillset anytime that a situation calls for it. We replace every part with an original manufacturer substitute, so that your reliable Ford can run as smooth as its first day away from our inventory!
Are you interested in or looking to schedule an appointment with one of our technicians? If so, you can use the online Schedule Service form below to provide us with basic information about you, your vehicle and the preferred time to meet with us. Once you're done, you can easily plan to see us at 2380 South U.S. 27 and have any issues that are plaguing your Ford taken care of in no time at all! Come by and let us take care of business for you today!