The Rise of the Ford Escape
Initially released for the 2001 model year, the Ford Escape is a crossover SUV designed for outdoor adventure with multiple passengers. The first-generation Escape was actually designed in affiliation with Mazda, combining the best attributes of two of the most trusted automotive brands out there to create a high-class, noteworthy SUV designed for families and those looking to take their outdoor activities to the next level.
The Ford Escape was one of the most powerful SUVs in its class, even when it was initially released, with a 2.0-liter engine that produced up to 200 horsepower. For those looking for even more power under the hood, a 3.0-liter V6 engine was also available, which produced up to 240 horsepower, allowing for the Ford Escape to more effectively carry families and single riders to their destinations.
From the beginning, the Ford Escape was designed for getting out there and finding excitement, coming standard with all-wheel drive since its inception. More recent models continue the trend of offering various different driving styles, such as the 2020 Ford Escape, which came standard with five different driving modes: normal mode for a well-balanced SUV driving experience, eco mode, which makes the most of the Escape model's competitive fuel efficiency, sand, slippery, and snow modes, for looser terrain with less traction, and sport mode, which shows off the true, raw power of the Ford Escape, and just how capable it truly is.
Throughout its history, the Ford Escape has offered drivers of all walks of life the means to tackle every aspect of life confidently, whether it be journeying into the unknown or taking on the regular tasks of everyday life such as daily commutes and family events. Whether you're seeking excitement by yourself or making your way to that soccer game with the family, the Ford Escape is an SUV that offers the strength, efficiency, and comfort to get you where you need to go the right way.

Find the Right Ford Escape Here at Pauli Ford
With so many different iterations of the Ford Escape spanning its twenty-year production history, the question isn't whether this used Ford SUV is the best vehicle for you but rather which one can offer you the best of what you're looking for. Well, that's where our impressive lineup of used vehicles can help because we've always got a used Ford Escape model that can help you find your way to adventure.
For those looking to get the best in terms of performance so as to seek excitement on and off the road, the 2020 Ford Escape has lots to offer in that department. With a 2.0-liter engine that produces up to 250 horsepower, working in tandem with an eight-speed transmission, the 2020 Escape model has plenty to offer thrill seekers looking to answer the call of adventure.
If it's fuel efficiency you're after, the Ford Escape delivers on that front as well. A specific model that can offer you the best in terms of fuel efficiency is the 2013 Ford Escape, which features one of the most competitive fuel economies in the vehicle's history, getting up to 23 MPG in the city and 33 MPG on the highway, making it a highly efficient SUV that can save you money every step of the way.
If style is an important factor in your next vehicle, the Ford Escape has plenty of it to go around across its various iterations. A specific standout in this category would be the 2021 model. Having undergone its most recent cosmetic overhaul in 2020, the 2021 Ford Escape has a bold, modern design featuring a sleek contoured bodyshell, meaning that this Ford Escape model will turn heads no matter what road it may find itself on.
Why You Should Consider Trading-In
For those looking to get behind the wheel of a Ford Escape on their own terms, considering a trade-in of your current car may be exactly the route you're looking for. Purchasing a new car can be a difficult process to wrap your head around, especially for those in more constrained financial situations. If you're looking for the means to get behind the wheel of one of these excellent Ford vehicles without breaking the bank, trading in your vehicle can help reduce the amount of financial strain to a minimum while also clearing up garage space for your shiny new Ford Escape.
Here at Pauli Ford, we believe that everyone should have the ability to see what the amazing world of Ford vehicles can do for them firsthand. There's an immense amount of value in used vehicles of all kinds, and if you're looking to move on to your next adventure, we're just the folks to help take your current vehicle off your hands and get you in the driver's seat of a model that can suit your current needs more effectively.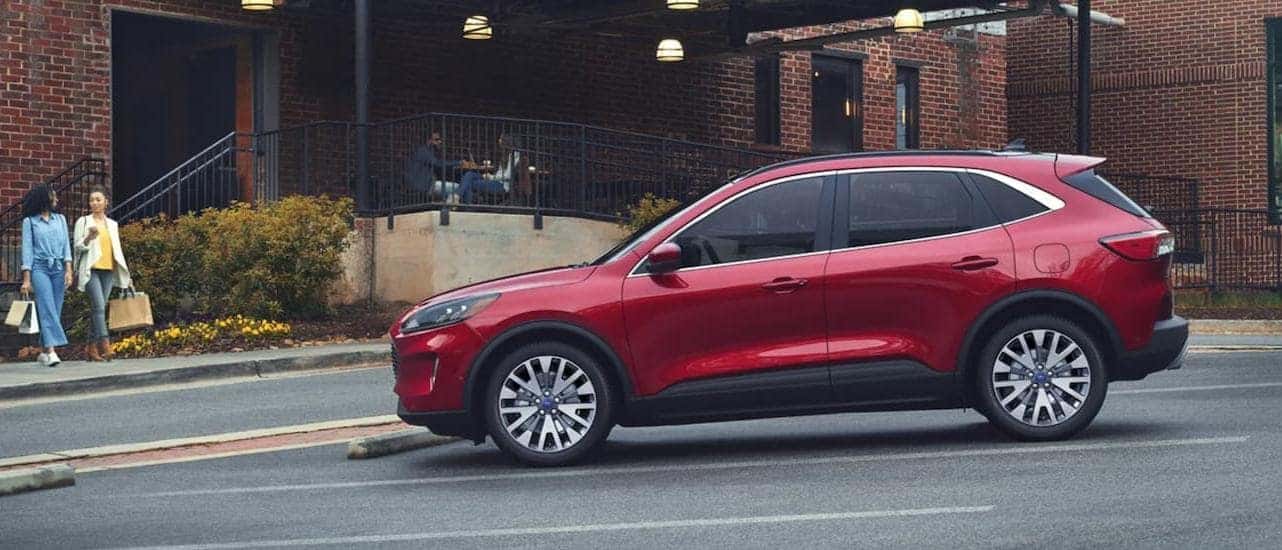 Why Work With Pauli Ford?
Here at Pauli Ford, we are committed to offering the best possible vehicle purchasing experience possible from start to finish. From the moment you walk through our doors, our friendly sales staff will be there to greet you with a warm welcome and an eagerness to help you find exactly what you're looking for. Pleasant and determined to help through and through, they'll be there to keep you informed without making you feel pressured in any way. Once you decide on the vehicle that works best for you, our delightful vehicle financing team will help you from there to find a payment plan that works best for you, ensuring that you get the fairest rate possible that works best for your needs.
Don't think the Pauli Ford experience is over once you've driven off into the sunset; once you hit the open road, our experienced and knowledgeable Ford service center team is only ever a phone call away for any maintenance and service needs that may arise throughout your journeys. Our experienced technicians will get to the root of the problem with swiftness and precision so that you can spend less time in the service drive and more time pursuing adventures of all kinds with family and friends. At Pauli Ford, we're committed to offering the best possible customer service experience from the moment you walk through the door to the years of vehicle ownership down the line.