Your vehicle's brakes
Being able to stop your vehicle on a whim is imperative to your safety. Any lag could lead to an accident, so if you've noticed any strange noises or a change in the feel as you brake, you need to get your car to an auto service center as soon as possible. Here at Pauli Ford, we maintain and repair brakes often and are ready to help you as well. Whether you drive a Ford F-150 or a Ford Fusion, our team knows your vehicle inside and out, and can get you safely back on the road in no time.
We take every service appointment seriously and start each and every one with an inspection. Our technicians will take a look at the brakes, see how they feel, and determine what the fix will be. You may need a simple brake pad replacement – we can take care of that right away! You could also need new rotors, or a brake line repair. No matter what your brakes need, we will diagnose the issue and get everything tuned up for you. We are always here to help!
How can I tell if my brakes need servicing?
Because we aren't looking at our brakes every day and they wear over time, it can be hard to identify when it is time for brake repairs. But brakes are the most essential safety mechanism in your vehicle, so it's essential to always keep them in good working condition. For that reason, you should have your brakes inspected by a professional every six months or so.
That said, sometimes you need to have your brakes repaired outside of a routine checkup. If your brakes feel spongy or hard to press down, your car pulls to one side, or you hear squealing and grinding sounds when you apply the brakes, you should head to the Ford service center near you. When in doubt, get it checked out. You never want to end up with a brake failure.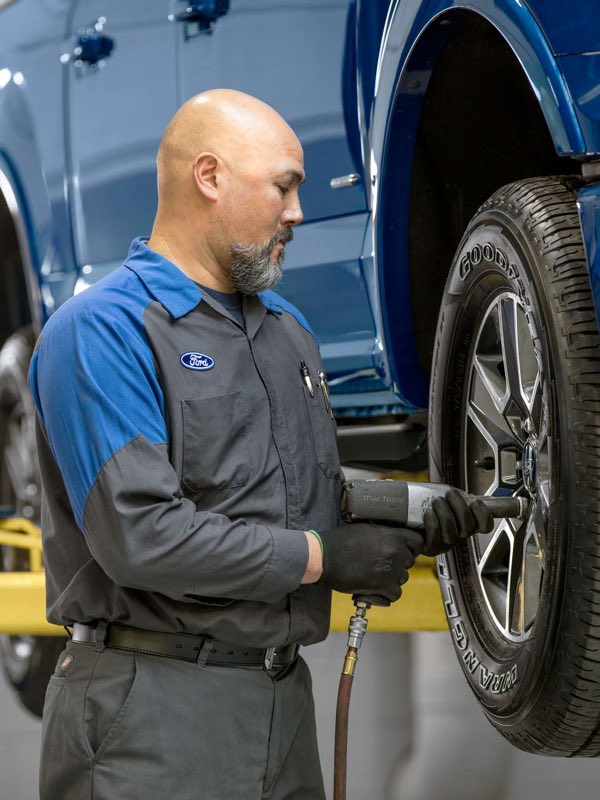 Why should I choose Pauli Ford for brake repair?
There are plenty of independent shops that could take a look at your brakes, so why should you bring it to us at Pauli Ford? A few reasons. First, our highly-trained technicians know the specific requirements for each and every Ford vehicle. If you have a Ford and want it in the best hands possible, our team is the place to go. Plus, we don't just go ahead and fix the most obvious issue, we make sure to tackle everything your brakes need.
At every brake service appointment, we provide comprehensive brake inspections that cover:
• Checking for even wear and tear on brake pads/shoes
• Ensuring brake lines and master and wheel cylinders aren't leaking
• Checking brake rotors for hot spots and run-outs
• Inspecting calipers for wear, fluid leaks and movement
• Checking anti-lock brake sensors
• Testing hardware and making necessary adjustments
• Checking brake fluid condition and levels
When you bring your vehicle to our shop, we will take care of everything. Plus, we always use OEM Ford parts during our repair services, ensuring the best fit and function for years to come. Even aside from the actual service, there are plenty of benefits for you to enjoy while your vehicle is in the shop. These perks include:
• Ford parts and labor warranties
• Clean, comfortable waiting areas with free Wi-Fi
• Shuttle service to and from your home
• Friendly and knowledgeable staff
If your vehicle needs brake repairs, bring it to our professionals today! We will take care of you in no time at all. Have questions? Contact us online and we will be happy to assist you.
Closed track. Line-lock is intended for track use only. It should not be used on public roads. See Owner's Manual for information on use.
Introducing the FordPass™ Rewards Visa® Card.
The card that makes it easy to rack up FordPass Rewards Points on purchases you already make — from filling up at the pump to your monthly auto insurance payment and more.
Closed track. Line-lock is intended for track use only. It should not be used on public roads. See Owner's Manual for information on use.
QUESTIONS ABOUT BRAKES? Let Us Help!