5 Reasons to Choose a Used Ford SUV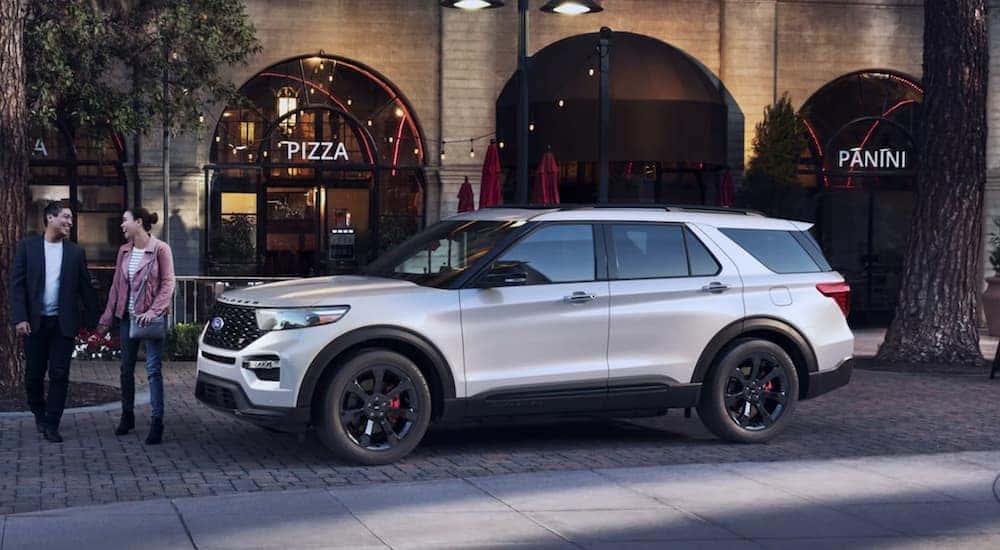 Finding a great vehicle means making decisions, hopefully making the right decisions to ensure you get something that has everything you need. Each decision helps you to narrow down the massive number of options available to you from the auto industry, but it can sometimes be difficult to choose one brand over another or decide on which model best fits your budget. If you've been trying to figure out which vehicle will meet your needs, and you've been looking for a used Ford dealership near Ionia, then we think you've made a great choice and suggest heading east to visit Pauli Ford in Saint Johns.
We find that many of our customers come to us with a great deal of uncertainty, unsure of whether a model, feature, or option is right for them. Fortunately, we're here to help you narrow down all your options and drive away in a fantastic vehicle. If you're already considering a used Ford SUV, you're well on your way to getting a ride you'll love; if not, we're going to make a case for why you should. Let's take a brief look at just a few of the reasons we recommend used Ford SUVs to so many of our customers every day.
Reason #1 – An Amazing Selection of Vehicles
First and foremost, the most straightforward reason we suggest a used Ford SUV, or any Ford really, is due to the incredible selection of models offered to you. The current lineup of Ford vehicles is terrific, and if you're shopping for a used model, then you have even more choices available for you to choose from. This makes it easier to find exactly what you want and need in your next SUV, no matter what you're looking for. A Ford SUV is the perfect choice whether you're looking for something fun to drive for your daily commute, need a large vehicle for a growing family, or are chomping at the bit to leave civilization behind and head off-road.
Here at Pauli Ford, you have a huge selection of great Ford vehicles available across many model years and with terrific features. You can get something small like the EcoSport or Escape, which are great models for getting around Ionia or commuting to Lansing or Grand Rapids. Recently, the Bronco and Bronco Sport have redefined what we expect from an off-road capable SUV. While a used Bronco can be difficult to find, we're here to help you get what you're looking for. Larger models like the Edge and Expedition are perfect if you're looking for a reliable family SUV that's also fun to drive. Finally, the all-electric Mustang Mach-E delivers exhilarating performance that will ensure you have a great time whenever you get behind the wheel.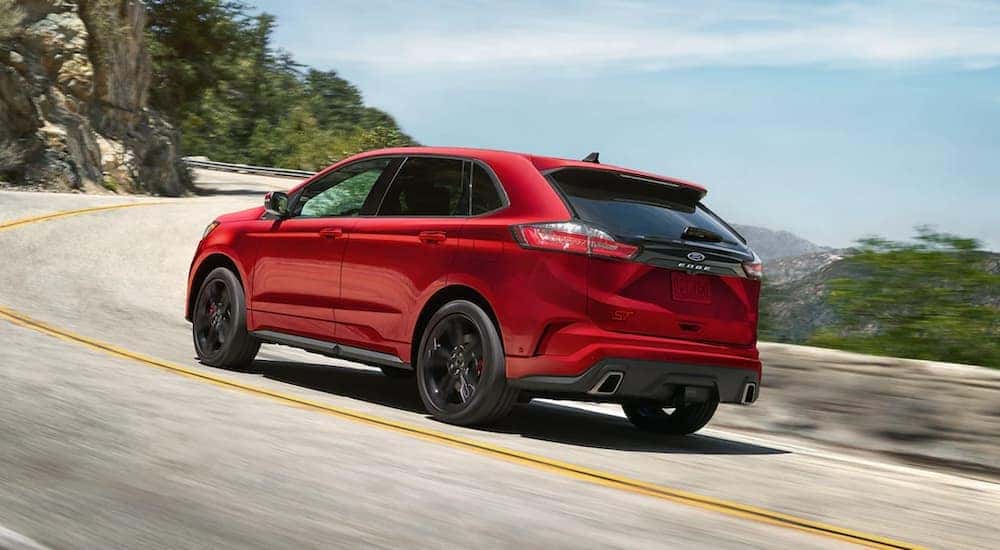 Reason #2 – Two Certified Pre-Owned Programs
You have a lot of options available when you're shopping for a used vehicle, but some people worry that the uncertainty of whatever a previous driver did with their car doesn't justify the lower price of a pre-owned model. That's when a Certified Pre-Owned (CPO) vehicle can be a terrific option since it helps you save money while giving you unmatched peace of mind. Ford comes through in this regard in a way that few other brands can because it offers you not just one but two CPO programs to take advantage of when shopping for your next vehicle.
Ford's Gold Certified vehicles set the gold standard for CPO models, with high standards for quality and fantastic warranty protection on your used SUV. Every Ford Gold Certified vehicle must pass a 172-point inspection, cannot be older than six years, and comes with a seven-year/100,000-mile powertrain warranty. If you're looking to save even more money and gain access to a wider range of vehicles, then a Ford Blue Certified model is perfect. These vehicles still have to pass a 139-point inspection and come with a 90-day/4,000-mile comprehensive limited warranty to protect your purchase, but they can be up to 10 years old. No matter what your budget looks like for your next SUV, Ford has you covered with incredible peace of mind and a great used vehicle that you'll love.
Reason #3 – Remarkable Technology and Innovation
Ford vehicles are among the most technologically advanced on the road, with innovations going into them year after year. This means you get to take advantage of some of the most remarkable tech out there, even if you're looking at used models. Ford's SYNC 3 infotainment system, for example, was introduced in 2016 and comes with large and stunning displays that make it easy to keep track of the information you need while you're on the road. The available navigation systems and Ford's hands-free connectivity, including wireless support for audio streaming, make it easy to get where you're headed while also getting the most from your travels around Ionia.
Reason #4 – Vehicles You Can Count On
Beyond any other consideration, when shopping for a used SUV, you need to know that you're getting a vehicle you can rely on. We all know that Michigan roads can get rough at times. Fortunately, Ford models are well known for their high level of reliability and for having dependable engineering that lasts many years while running beautifully. This is something that you can't find from just any brand, and it means you can shop with confidence, knowing that you'll get a fantastic SUV that you can keep driving for many years. Whether you're simply worried about your own driving needs in the years ahead or considering something you can pass on to a teen driver, Ford has you covered.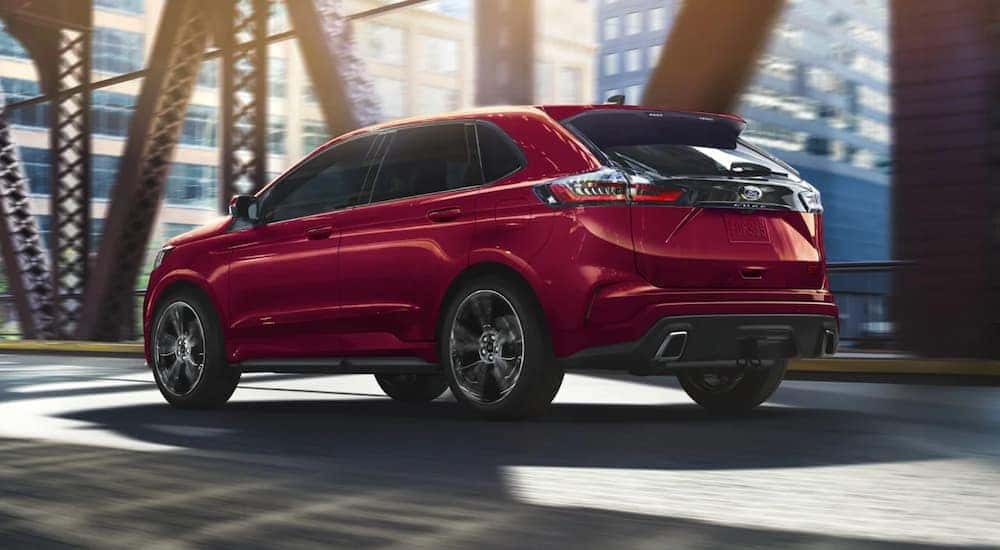 Reason #5 – Ford Co-Pilot360 Features
Although there's a lot that we love about Ford vehicles, few things are quite as impressive as the suite of advanced driver-assist technology known as Ford Co-Pilot360. This can include a wide range of different technologies and features, so you'll need to look at the specifics of any particular used SUV you're interested in, but it's a great way to know you're getting a very safe vehicle. Blind Spot Information System with Cross-Traffic Alert makes it easy to avoid other vehicles hiding in your blind spot or approaching you unseen while backing up. Pre-Collision Assist with Automatic Emergency Braking can detect the potential for a crash and provide extra braking support. Intelligent Adaptive Cruise Control makes long road trips safer and less stressful for you as a driver.
What More Could You Want?
Honestly, these five reasons are only the tip of the iceberg when it comes to the amazing features, technology, and engineering you can find in used Ford SUVs. When you make the trip from Ionia to Pauli Ford, you can buy with confidence, knowing that you'll drive away in a fantastic vehicle that will serve you well for many years to come. A used Ford SUV is the perfect way to save money, enjoy terrific features, and have peace of mind knowing that you're getting something special. If you're ready to see everything that a used Ford has to offer, then come visit us at Pauli Ford, and we'll help you find the perfect SUV today.