A Few of Our Best Used Ford Ranger Models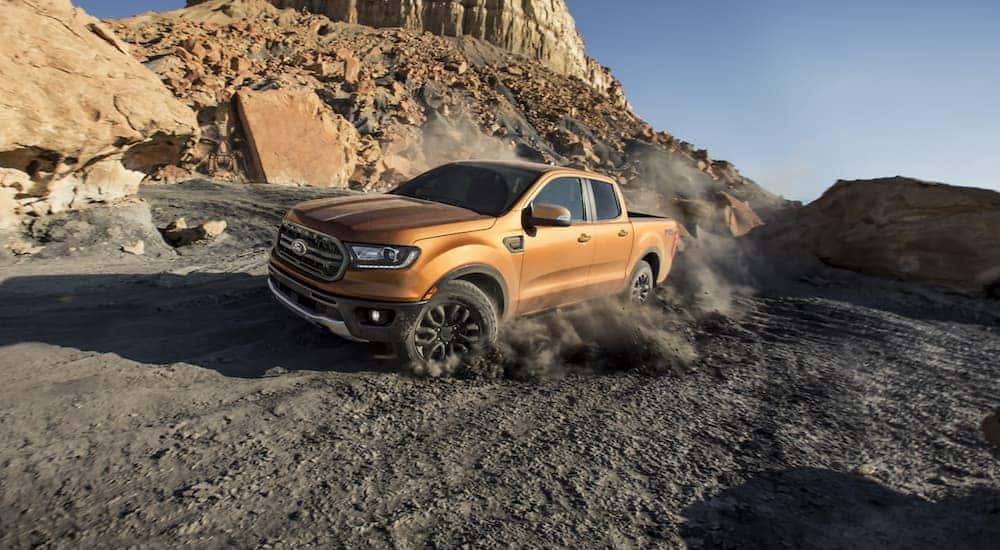 Ford's trucks are the gold standard for hard-working Americans. Providing strength and dependability is part of this brand's tradition—and this tradition is still going strong today with models like the F-150, the Maverick, and the Ranger.
At Pauli Ford, we believe that Ford's trucks offer an unbeatably wide range of utilities, making them suitable for all kinds of hard labor and high demands. As a reputable used truck dealer near Owosso, we see lots of drivers come through our doors looking for a vehicle that can keep up with them on the clock as much as off of it—and when it comes to Ford's pickup truck lineup, no vehicle can help serve drivers on both fronts like the Ford Ranger.
This versatile pickup is designed to provide drivers with the power they need to take on heavy lifting and rough terrain. Owosso has a lot more in store than the roads suggest, with all sorts of stunning sights lying off the beaten path; to really get the most out of it, you need a truck that can handle anything, which is why the Ford Ranger's versatility, power, and efficiency are exactly what Owosso drivers need.
We here at Pauli Ford are proud of our selection of used vehicles, each having just as much strength and capability as new models. Buying used can be a great resource for many people, as it not only makes high-quality vehicles accessible at a price tag that won't break the bank, but it also opens the door to a vast assortment of vehicles with diverse strengths from across the last decade, meaning there's a whole world of Ford Ranger power and precision just waiting to be explored. If you're interested in what some of the best pre-owned Ford Rangers look like, here's a handful of models we think have the capability Owosso drivers need…
The 2006 Ford Ranger
The 2006 Ford Ranger is an exciting blast from the past that has a solid spectrum of power and efficiency across its numerous engine options, of which there are three: a 143-hp 2.3L four-cylinder, a 148-hp 3.0L V6, and a 207-hp 4.0L V6. With this broad spectrum of power to explore, plus the 2006 Ranger's vintage exterior style, this pickup is perfect for Owosso drivers who want to take on the sprawling topography of Michigan with a retro flair.
A five-speed automatic transmission accompanies these three engines, making the 2006 Ranger a relatively smooth shifter and an efficient ride. This model also affords up to 238 lb-ft of torque, allowing it to tow up to 1,600 lbs unbraked—enough to take a small boat, trailer, or camper with you across the backcountry. Of course, while that's a great figure, you can get far more from your braked towing capacity—over 3,220 lbs—which is enough for a pop-up camper or a saddled utility trailer.
One of the highlights of any Ford Ranger is its unbeatable fuel economy. Throughout its production, the Ranger has provided incredible efficiency for a vehicle of its weight class, making it fantastic for casual use. The 2006 Ford Ranger can achieve up to 21 MPG in the city and 27 MPG on the highway—perfect for the varied terrains and domains of Michigan, rural and urban alike.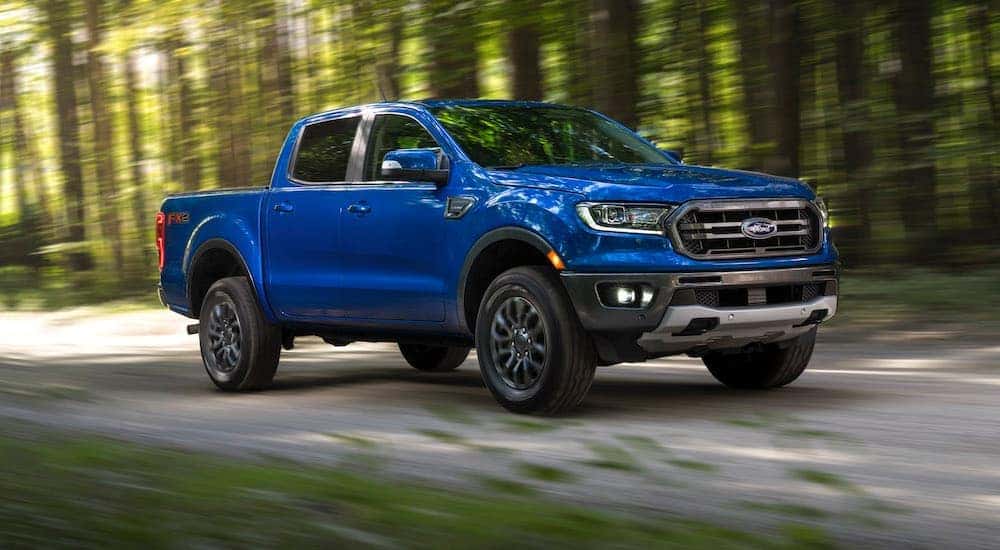 The 2019 Ford Ranger
In 2019, the Ford Ranger was reintroduced after an eight-year hiatus with a completely overhauled design. Of course, this included a plethora of innovative features these models had never seen before, such as new powertrains, which allowed it to pack far more of a punch than it had before. With a glut of tech features that increased convenience and safety, this iteration of the Ford Ranger is still one of the best to have ever hit the market.
The 2019 Ford Ranger runs on a 2.3L EcoBoost Turbo four-cylinder engine that can produce a fantastic 270 hp. Like the 2016 model, this engine is paired with a six-speed automatic transmission; furthermore, this engine produces up to 310 lb-ft of torque, allowing the 2019 Ford Ranger to tow up to 7,500 lbs, meaning no equipment is too heavy for your outdoor adventures.
The 2019 Ranger has a lot to offer for tech, too: it comes standard with the Ford Co-Pilot360 driver assistance suite, which includes Pre-Collision Assist with Automatic Emergency Braking, BLIS (Blind Spot Information System) with Cross-Traffic Alert, Lane-Keeping System with Blind Spot Assist and Road Edge Detection, Rear View Camera, and Auto High Beams. Additionally, the 2019 Ford Ranger's infotainment system is compatible with Apple CarPlay and Android Auto, so you can operate your smartphone through your truck's touchscreen interface.
The 2020 Ford Ranger
This nameplate has continually made bold strides throughout its production, and the 2020 model saw some particular improvements in its efficiency and agility that make it worth your attention. The 2020 Ranger runs on the same 2.3L engine as the 2019 model, but this iteration pairs it with an upgraded ten-speed automatic transmission, which makes it far more dynamic and fluid than ever before.
The 2020 Ford Ranger also features a suspension tuned to off-roading, meaning that it can take a beating in the bush and never miss a beat, keeping you stable and comfortable while you enjoy the adventure. The 2020 Ford Ranger's cabin is spacious and satisfying, with an easy-to-use infotainment interface (spanning up to eight inches) and a handy driver information display affixed beside the speedometer so that you can keep track of essential information while driving.
The 2020 Ford Ranger also features an impressive fuel economy, which has become par for the course with all Ranger models. Getting 20 MPG in the city and 24 MPG on the highway in all-wheel drive (or 21 MPG in the city and 26 MPG on the highway in two-wheel drive), this high-powered pickup achieves an impressive efficiency rating that is a cut above the competition and perfect for those who frequently need to criss-cross Michigan.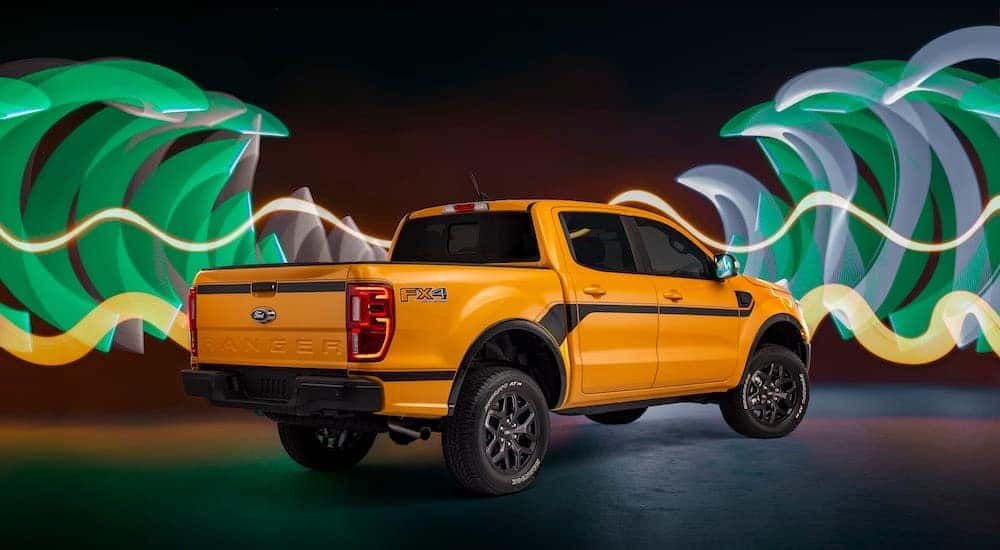 The 2023 Ford Ranger
The most recent iteration of the Ford Ranger was the last one before a major refresh that saw the 2.3L EcoBoost Turbo be eclipsed by two new engine options: a 2.7L and a 3.0L EcoBoost Turbo V6. Much of the tech and comfort accommodations are the same as the 2020 model, with Ford's Co-Pilot360 driver assistance suite still coming standard, albeit with punched-up software for sharper detection and reaction times.
This model year saw a Splash Package available on the SuperCrew cab configuration in the Lariat trim; this paints your body exterior orange with black accents, while the interior gets orange contrast stitching on your leather seats with carbon grain. The new Tremor Package is available on SuperCrew cabs with 4×4 and either the XLT or Lariat trims; this off-road outfit includes skid plates, FOX shocks, a reinforced suspension, and a higher ground clearance. With the 2024 Ranger on the horizon, you're sure to see a few recent releases with these sweet packages hit our pre-owned lot for much less than their initial MSRP—but act fast, because they'll go quick!
Test Drive the Ford Ranger at Pauli Ford
Ford trucks stay dependable years down the line, which is why we believe so fervently in the utility that used Fords can afford drivers everywhere. The Ranger has always been at the pinnacle of efficiency and adventure, even among the other trucks in Ford's impressive lineup; no matter which model year you're looking at, there's a whole world of utility that this vehicle can offer you.
Pauli Ford is here to help you find the perfect Ranger so you can make the most of life here in Owosso. We only have the finest Ford vehicles on our lot—new as well as used—and we're always looking for the opportunity to set someone on course for their next Ford-powered journey. If you're interested in what the Ford Ranger can give you, stop by Pauli Ford today and ask for a test drive.