A Ford for Every Family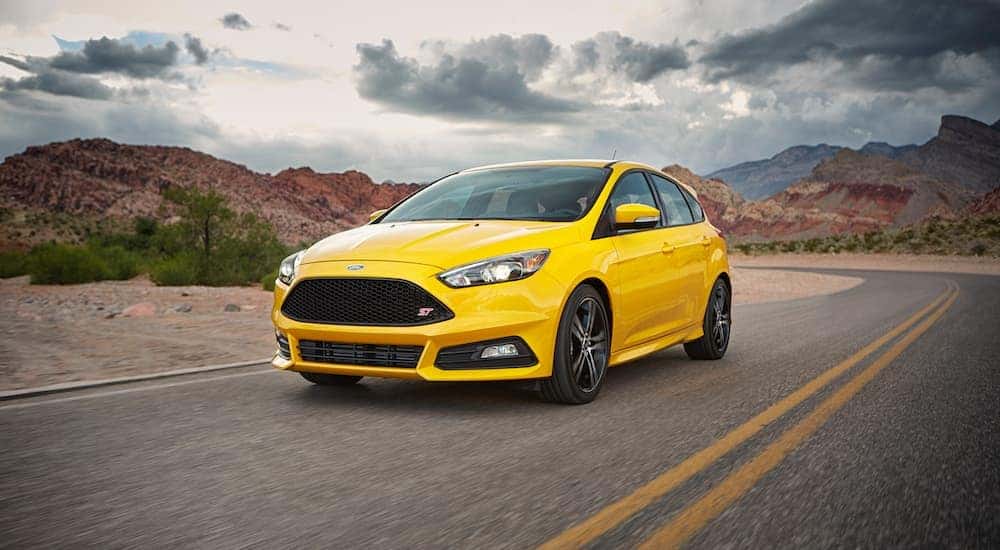 Whether you are a single individual who needs a new vehicle to get you from place to place, a growing family, a family adding another driver, or someone ready for an upgrade, Pauli Ford has a vehicle for you. From small sedans to large trucks and SUVs, Ford has made an effort to make a vehicle that will fit every family's needs. So if you're looking to get another vehicle that fits your family or your needs better, Pauli Ford has the right Ford for you. So if purchasing a Ford has crossed your mind, and you've wondered, "Is there a Ford dealer near me?" look no further than us! As your local Ford dealer, it is our mission to get a Ford for every family!
A Family of Four: 2018 Ford Focus
When it comes down to needing an efficient vehicle to get you and your family where you need to go, there are very few options better than the Ford Focus! With a fuel economy of 30 mpg (miles per gallon) in the city and 40 mpg on the highway, you can count on the Focus to get you from point A to point B without making many stops at the pump. It's smaller on the inside, which is fine when it's just you or your small family. Just because it's a little smaller doesn't mean there's no room for the kids' backpacks and gear in the trunk, though, because the Focus has a cargo capacity of 23.8 cubic feet.
The Focus also has great safety features on the SE and SEL trims, making it an excellent choice for keeping you safe on the road. If you're interested in fast and peppy cars, the Focus can be fun to drive, getting a maximum of 350 horsepower depending on trim. The Focus can get up to speed quickly, with a 0 to 60 rating of 4.5 seconds. So you can have a safe car that gets great gas mileage but is also super quick and a lot of fun to drive. The Focus is an excellent fit for any individual or small family.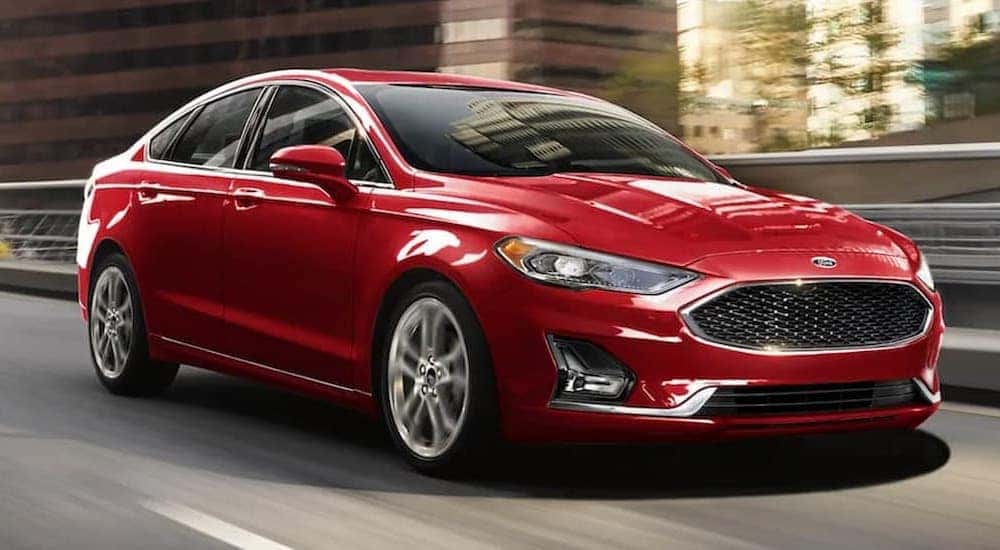 The Family of a Teen Driver: 2017 Ford Fusion
One of the scariest times in a parent's life is when their teenager is due to get behind the wheel. When the time has come to get your teen on the road and into the real world, you want to make sure you've set them up to be as successful and safe as possible. One great way to do this is to look into what specific car will keep your teen safe and in control. We recommend the 2017 Ford Fusion. This is for a few reasons, the obvious being that the 2017s are used Ford Fusions. This puts the price down to a more reasonable level, making any dents or dings your teens get in it a little less painful, and it's not so old or used that it won't last your teen a long time.
The 2017 Ford Fusion gets great gas mileage, so there's less money going into the car's tank. Depending on the trim of the Fusion that you get, they can be pretty quick, but some options only get 175 horsepower, which is a good amount for any inexperienced driver. The 2017s are rated 5 stars by the NHTSA. Part of that rating is based on the safety features that Ford's included, such as pre-collision assist, pedestrian detection, adaptive cruise control, lane keep assist, cross-traffic alerts, and electronic stability control. All of these features are must-haves for most drivers, especially those who are new to being behind the wheel. They help keep your teen more aware of their surroundings while still allowing them to keep their Focus on the road in front of them.
Family of Six to Eight And/or Travelers: 2022 Ford Expedition
If your family is a little larger than 5 members, you just need more legroom, or perhaps you and your family like to travel; you definitely want to consider the Ford Expeditions as your next vehicle. Being a full-sized SUV means that there is a small sacrifice when it comes to gas mileage but a huge increase when it comes to comfort and cargo space. However, Ford has attempted to mitigate this fuel efficiency loss by giving the 2022 Ford Expeditions a 10-speed automatic transmission that allows them to optimize fuel use. This means that the Expedition gets 17 miles per gallon in the city and 23 on the highway, which is impressive when you consider the size of the vehicle.
The Expeditions are incredibly quick as well; with up to 440 horsepower on higher trim levels, they are fun to drive and amazingly responsive on the road. If your family enjoys the great outdoors, the Expedition is a great fit for you because it can tow up to 6,000 pounds which is enough for a camp trailer or a trailer for four-wheelers, dirt bikes, or snowmobiles. When it comes to overall cargo space, if you plan to utilize every seat for a passenger, then you can fit 20.9 cubic feet of cargo. However, if you're not using that third row for people, you can over double that space and fit 57.5 cubic feet of cargo. The Expeditions are great fits for families that are in love with their legroom, travel, and comfort on the road.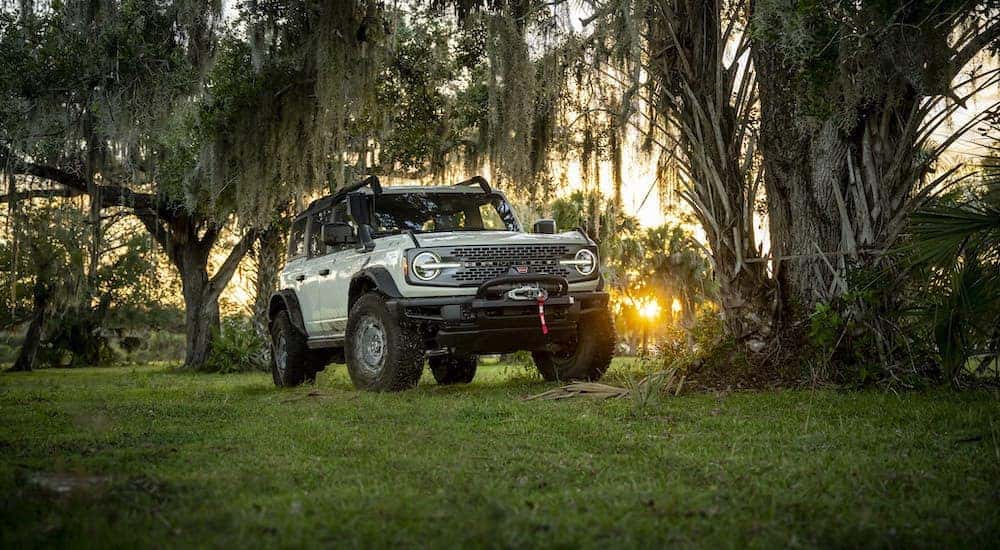 Family and Your Dog: 2022 Ford Bronco
Most of us have soft spots when it comes to our beloved family dog. Even though we swear we are not going to get dog hair in the new car, we quickly find that Fido has made a spot for himself in the front seat. So when it comes to those of us who need a good vehicle that is nice but will also allow us to take our pups with us, the 2022 Ford Bronco is where we look. It gets 20 miles per gallon in the city and 21 on the highway, making it a great SUV to take your pup to the lake or dog park in. Able to get up to 400 horsepower, the Bronco is still really fun for drivers and passengers, whether they're people or your pups. It's quick and responsive on the road but still maintains a 5 star NHTSA safety rating. The back seats are set up to naturally be a divider between the cargo and seating area, which means there's built-in space for Fido to sit. If your pup isn't one to respect your natural boundaries, the Bronco also comes with options that will allow you to put up a net barrier that can keep them in the back of the vehicle. The Bronco is a great vehicle for any driver, with or without pets.
Which Ford Are You?
When it comes down to finding a great new vehicle for yourself, your family, or your dog Ford has something for every Family. From the incredible and fuel-efficient Ford Focus to the fun-for-your-whole-family Expedition, Ford has a vehicle for everyone. We know it is never easy to pick your next vehicle, and if you're going to spend the money, you want to get the best value you can. That's a huge part of why we are a Ford dealer. Ford is known for making quality vehicles at affordable prices. We believe in getting you the very best and there are many different options available to you. We encourage you to come into Pauli Ford and check out our new and used vehicles and let us help you pick the best vehicle for you.