A Ford Super Duty Can Meet Your Towing Needs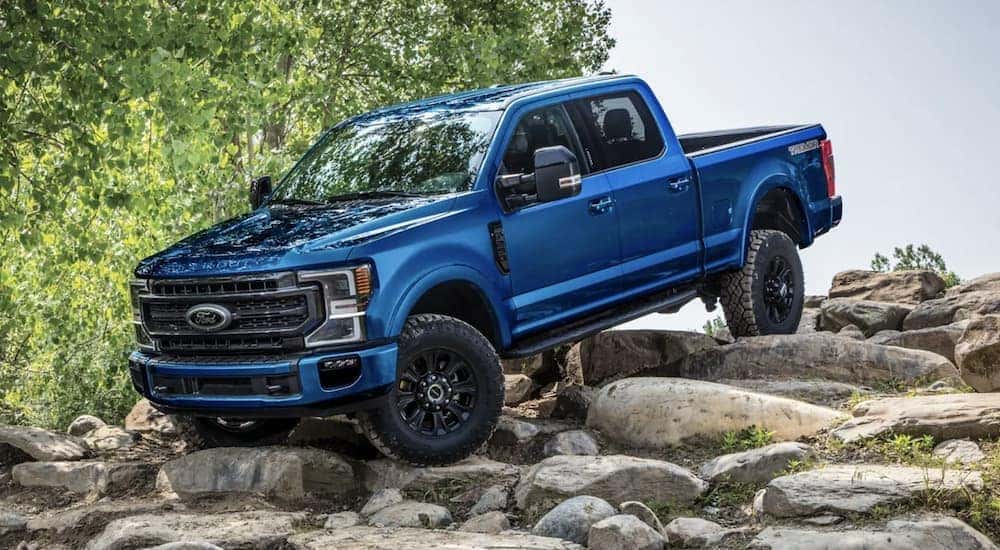 For many people, driving the right truck is the secret to getting everything done right. If you're looking for a great Ford truck at an Owosso Ford dealer, we suggest you expand your search a bit and come visit us at Pauli Ford over in St Johns. We have a fantastic selection of new and pre-owned Fords for you to choose from, but more importantly, we can help you look at all your options and make sure you find the perfect pickup to meet your needs. For some folks, that means the bestselling Ford F-150, but a Super Duty model might be a better choice if you need more power than that.
Before you buy your next truck, the most important thing is that you take some time to figure out exactly what you need it to be able to do. In particular, you want to consider the kind of towing capacity you need from your pickup since this will have a major impact on the model you should choose. Today, we're going to help you consider the kind of weight you need to be able to haul behind you and what this means when it comes to choosing your next truck. If a Super Duty model is right for you, we can help you find the perfect one.
Weight Considerations
The biggest thing you'll need to figure out on your own is how much weight you need to pull behind your truck. This is something we can't do for you since we don't know the kind of work you need to be able to do or what your daily requirements look like. That being said, if you're looking to buy a truck for personal use, you should consider a wide range of situations: your daily work needs, weekend projects, any boat or trailer you already have, and future plans for boats, trailers, or campers. A truck purely for professional use doesn't require quite as much overall consideration, but you still need to plan for the towing you want to get done.
Our main suggestion is to always overestimate the weight you'll need to pull while figuring this out, at least by a bit. That doesn't mean you should double every value, but it's always a good idea to give yourself some extra room in case any estimates are off and to account for the unexpected. If you have an 800 lb trailer and tend to load it up with 1,000 to 2,000 lbs of weight, you should ensure you get a truck that can haul 3,500 or 4,000 lbs to be safe. Similarly, if you have a large fifth-wheel camper that weighs 13,000 lbs, then you might aim for 20,000 lbs of towing to account for everything you'll load it up with.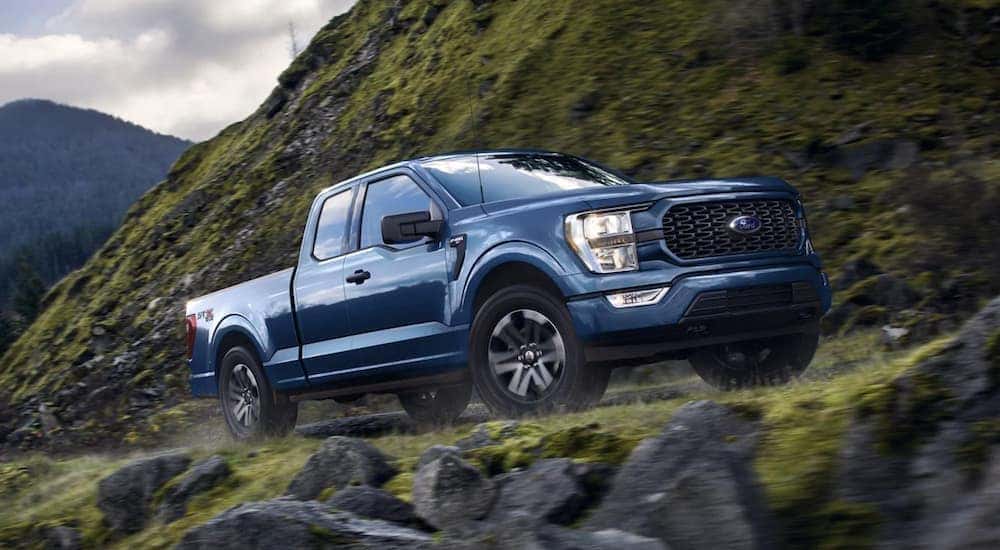 The Ford F-150
Before we get into the Super Duty models, let's quickly look at what works well for the majority of people: the legendary Ford F-150. This is a full-size truck with plenty of muscle, but it's a light-duty option, so it is designed for general use. That being said, it's still a fantastic work truck that can handle a tremendous amount of weight, particularly when properly equipped with the right engine and other options. Looking at the 2022 F-150, with its available 3.5L V6 hybrid engine, it can handle up to 12,700 lbs of towing; going with the non-hybrid version of this engine can get you up to 14,000 lbs of maximum towing. That's very impressive and is plenty of power for a lot of Owosso truck owners but if you need more, then take a look at a Super Duty.
Super Duty Models
Ford Super Duty trucks are full-size models much like the F-150, but they have a heavy-duty design and incredible engineering that allows them to handle much more weight than the F-150 can. Considering just how impressive the F-150 is, that's really saying something. There are two standard Super Duty models available: the medium-duty F-250 and the heavy-duty Ford F-350. Both of these trucks are offered with the same remarkable engines to give them tremendous power and capability, but the F-350 can handle more weight and work than the F-250 can.
You can choose between two gas V8 engines or a turbo-diesel engine for either Super Duty model. They both deliver impressive power, and you can get excellent towing capacity with either truck. Where the F-350 truly shines and delivers capability far beyond what either the F-150 or F-250 can handle is if you choose a dual-rear-wheel configuration and you need to do some fifth-wheel or gooseneck towing. Let's take a look at what each of these trucks can do to see which is right for you.
The Ford F-250
In many ways, the Ford F-250 looks a lot like the F-150, but it's clearly been engineered to handle more power and give you more muscle to get your work done. With its standard 6.2L V8 engine, the 2022 F-250 can handle up to 15,000 lbs of conventional towing. The available 7.3L V8 engine can similarly haul up to 15,000 lbs behind it, while the available 6.7L V8 Turbo Diesel pushes the conventional towing capacity of the F-250 to up to 20,000 lbs. Fifth-wheel towing is slightly higher as the standard engine can pull up to 15,800 lbs of weight, the 7.3L V8 can tow up to 19,500 lbs, and the diesel tops out at up to 22,800 lbs. These numbers are certainly impressive, but if you need to handle more weight, you'll want to consider looking for the F-350 at your new or used truck dealership.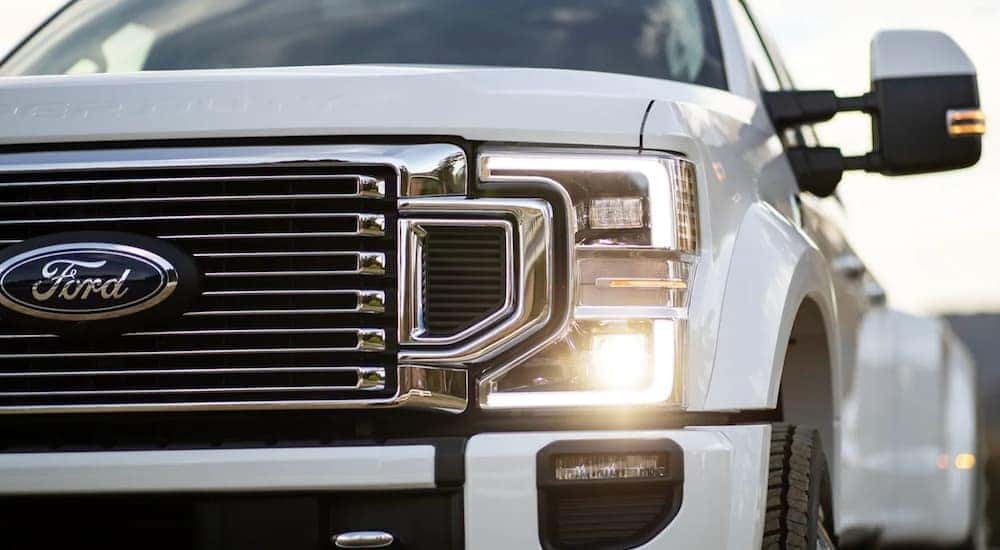 The Ford F-350
For the best towing power possible without moving up to a chassis cab model that requires more work––though that's a great choice if you want to fully customize your truck, the F-350 Super Duty is the way to go. It has the same three engines as the F-250, but it can simply handle a lot more weight. With its single-rear-wheel configuration, the conventional towing of the 2022 F-350 is identical to the F-250. But the F-350, with a single-rear-wheel configuration and the standard engine, can handle up to 16,600 lbs of fifth-wheel towing, while the available 7.3L V8 can pull up to 21,000 lbs, and the turbo-diesel tops out at 22,800 lbs of fifth-wheel towing.
To fully appreciate what the 2022 Ford F-350 can do, you have to look at a dual-rear-wheel model––particularly when we get to fifth-wheel towing. For conventional towing, the standard engine with a dual-rear-wheel F-350 can pull up to 16,700 lbs, while the two available engines can both tow about 21,000 lbs. Fifth-wheel towing with the two gas engines isn't much better, but if you have an F-350 with a dual-rear-wheel configuration and a diesel engine, it can handle up to 35,750 lbs of fifth-wheel towing. This is a massive amount of muscle that's perfect for flatbed trailers loaded with heavy equipment and machinery or a dump trailer full of rocks and gravel.
Find Your Perfect Truck!
The differences between the F-Series trucks can be minimal in some ways but truly exceptional in other areas. The fifth-wheel towing potential of the Ford F-350 is more than double what the F-150 can manage, making it the perfect choice if you have a lot of weight you need to be able to haul. Once you know what you need from your truck, then we're here at Pauli Ford to help make sure you get it––so contact us or come make the drive from Owosso to us today!