Do You Dare Ensnare the Ford Super Duty?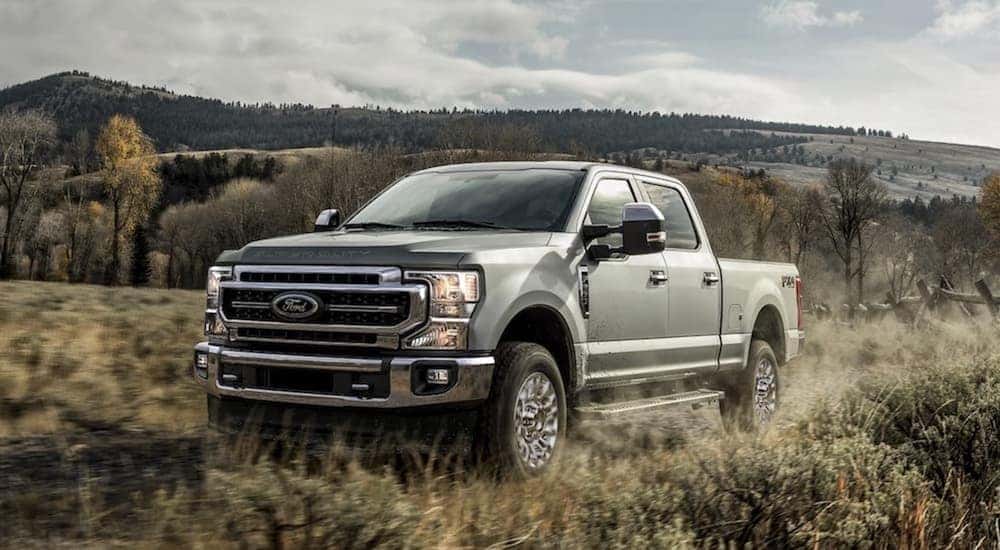 Have you ever sauntered past a Ford Super Duty, ogled it, and gone home salivating? Maybe you've taken an impromptu detour to your local used truck dealer just to get another peek—something to tie you over for a few more weeks. The Super Duty's rugged design and promise of unbeatable power make this pickup far too tempting to ignore… and when you find one pre-owned, its elevated affordability makes it hard to get out of your head. Do you dare tap into the strength of a Ford Super Duty?
Even if you don't need the intense power of a Super Duty all the time, having that extra muscle couldn't hurt for those few but unending days of extraordinary towing and hauling. If you want your truck to be able to handle anything you throw at it, a Ford Super Duty might be what you're looking for.
If you're unfamiliar with the Ford Super Duty, this heavy-duty lineage is part of Ford's best-selling F-Series. This family of pickups has topped the charts as America's best-selling trucks for nearly five decades and counting, so you know you're getting something monumental when you get behind the wheel of a Super Duty. This lineup starts with the F-250 model and rapidly ascends through the F-350, F-450, and F-550, with a further monstrous F-650 and F-750 for the commercial sector.
When you want a truck that can meet the demands of the job head-on and then keep going even after you call it a day, the Super Duty series won't let you down. If you're on the fence about getting a pre-owned Super Duty truck from Ford, read on to learn more about this best-selling truck line and why it may be just the truck you need to tackle work, play, and anything else life throws at you.
At a Glance: The Super Duty
The Ford Super Duty lineup of trucks has been on the roads since 1998, when Ford decided the name was worthy of its own distinct lineup of heavy-duty trucks. Now in its fourth generation, the Super Duty family has made an everlasting mark, delivering unbeatable performance with best-in-class towing and payload capacities.
But it's not just the power that the Super Duty lineup offers; with convenience features to upgrade your truck with things like a Max Tow package or Pro Trailer Hitch Assist, plus the ability to upgrade to high-end luxury features like onboard scales or turn-by-turn navigation directions, the Super Duty truck has a lot to offer drivers.
Procuring a pre-owned Super Duty makes sense if you're looking to take your dollar further; buying pre-owned often means getting more for your money, as you can get a truck with an upgraded interior or high-trim extra features for far less than the original owner paid to equip them.
At a glance, the Ford Super Duty offers a lot of value, making it a smart investment for drivers who want an indefatigable and well-rounded workhorse that is always up for the biggest jobs.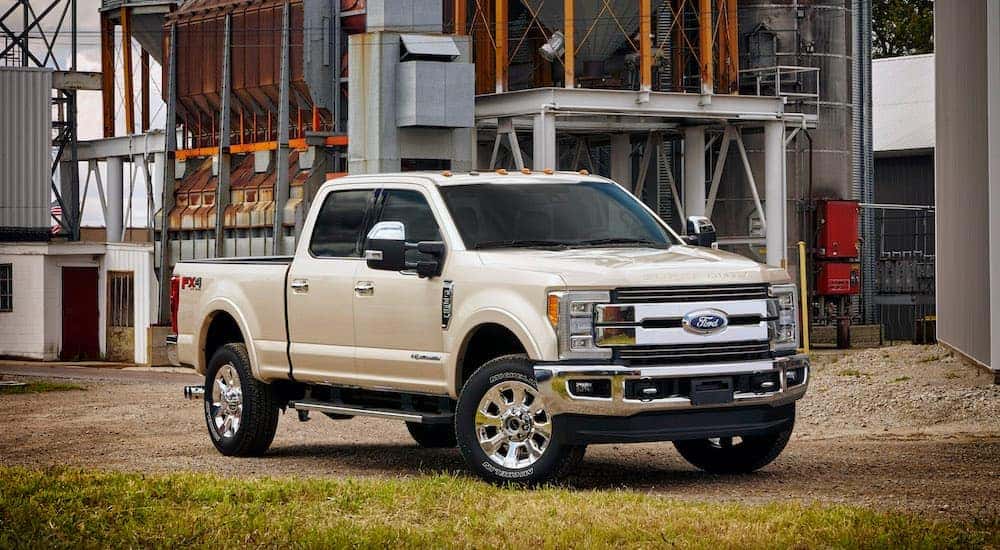 Super Duty Creature Comforts
The Super Duty lineup is known for its industrial strength and high performance, both of which make it an essential tool for oversized jobs. However, if you're on the fence about which heavy-duty model you want, the Super Duty family makes it easy to decide thanks to its combination of high power and a high-end interior.
Depending on the trim level, drivers can unlock a wealth of features that will make every trip better than the last. Supportive seating with rugged materials or high-end leather adds to the luxury, while the streamlined dash offers drivers easy access to user-friendly technology to unlock their truck's potential as quickly as a scroll, swipe, and tap.
Multiple camera angles make it easy to keep an eye on your trailer or your tailgate; specifically noteworthy are the Tailgate Down Camera and Tailgate Down Reverse Park Aid, considered innovative and the first of their kind. These make backing up, parking, and driving safer for you and those around you. When the tailgate is down, the camera is on—it's as simple as that.
The great tech doesn't stop at the tailgate, either—unless, that is, you're working your way from the front. You can sync your smartphone with Bluetooth or through the Apple CarPlay or Android Auto apps for more seamless functionality; there's even the option to get this app connectivity wirelessly, depending on the year and model of your pre-owned Super Duty. Once connected, you can personalize your driving experience with the touchscreen interface for your favorite apps, personal navigation, or playlists.
The Super Duty was designed to make the job and driving easier. If you find your days usually consist of towing and hauling, the Super Duty is a surefire savior. Convenient available features include the ability to create a custom towing profile that lets you save your trailer's information and thus streamlining your towing and hauling accordingly, saving you time and energy in the future.
An available Wi-Fi hotspot lets you stay connected even when you're in the field. You can support devices like phones, laptops, and tablets to ensure everyone can get their work done or stay entertained between bouts of activity.
When Work Is Over and Adventure Calls…
The Super Duty truck series was created to handle big jobs but also big adventures. These beefy beasts are committed to towing, hauling, and getting the job done—but at the end of the day, when you want to relax, the spacious cabin and supportive seating make it enticing to get in and just drive. When it's time to get away, and the work is done, the Super Duty awaits, always up for some fun.
If your idea of a good time consists of rutted camping trails or rocky terrain, then you and the Super Duty have a lot in common. The power, torque, and design of the Super Duty series make it capable of performing over rocky, muddy, or sandy ground; it may be robust, but it's a flexible vehicle that goes wherever and whenever you need it.
Off-roading packages are available to take your truck to the next level to ensure your truck is always ready when you are. Add to the rugged nature of the Super Duty's performance when you equip one of the available off-road packages, which offer features like bigger engines, all-terrain tires, and front-tuned suspension, all of which are capable of turning your Super Duty into an off-roading beast when nature calls.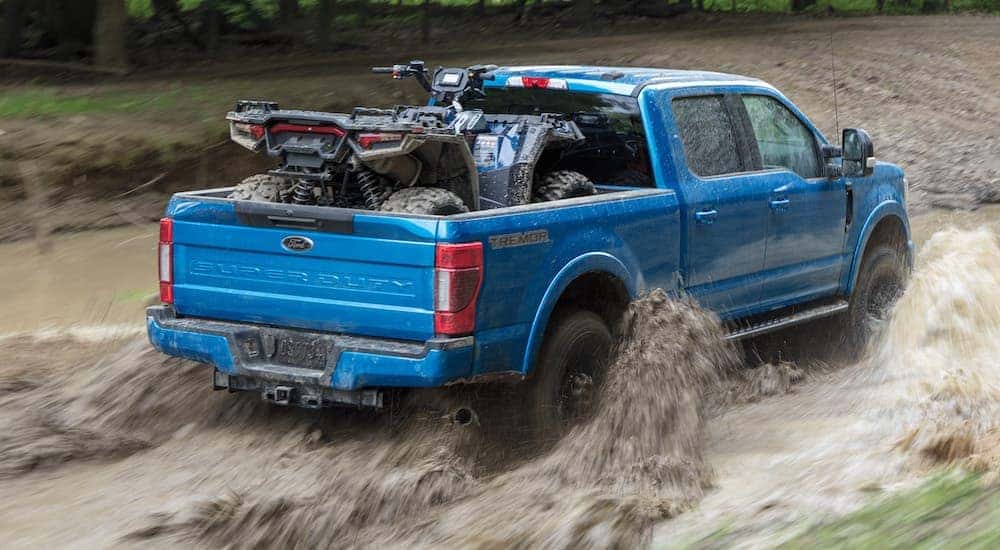 More Is More In a Super Duty
Get more when you get behind the wheel of a used Ford Super Duty. More power, more performance, more comfort, more savings… Who doesn't like the sound of that?
The Ford Super Duty series exists for the biggest of jobs and adventures. Numerous trim options, engine choices, and packages can take your truck to the next level. Whether you want a Super Duty for work or play, this series will excel at anything you put before it.
If you're in the market for your next truck, why should you consider a Super Duty? We say, "Why wouldn't you?" The Super Duty gives you the biggest and best of what Ford has to offer—industrial strength and capabilities, premium comfort and convenience, advanced driver assistance and safety features, and the chutzpah to veer off the beaten path and chart the sides of mountains.
It may be a burly beast, but the Ford Super Duty wants to be tamed. Compare it to its so-called competition and you'll see the choice is clear: nothing does tough like Ford, and nothing is tougher than the Ford Super Duty.