Introducing the All-New 2024 Ford Ranger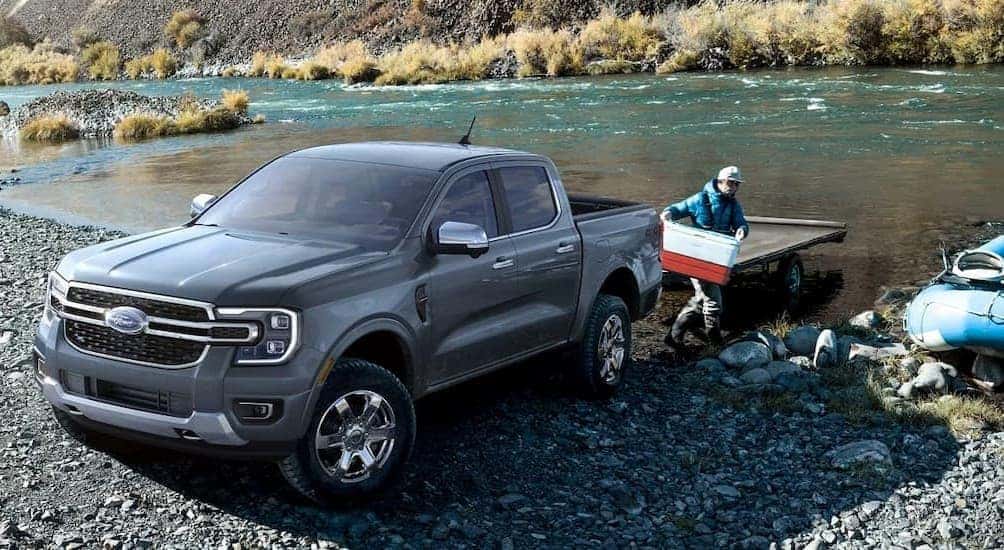 When you're browsing the trucks for sale here at Pauli Ford, you'll find plenty of different classes and configurations to choose from. The full-size F-150 and heavy-duty F-250 and F-350 are large and in charge, perfect for big jobs that require you to carry or tow a lot of weight. The compact Maverick doesn't have quite as much capability, but its consolidated stature makes it great for maneuvering in tight spaces, and it's more affordable than its larger counterparts.
Striking the perfect balance between these two ends of the spectrum is the midsize and versatile Ford Ranger. This "happy medium" is all-new for the 2024 model year, entering its fifth generation. Its extensive redesign affects everything from its exterior styling to its engine options, so there is plenty to be excited about.
And if you love leaving paved roads behind—chasing big adventures in the great outdoors—you'll love the North American debut of the rugged Ford Ranger Raptor, which can tackle all kinds of off-road terrain. Without any further adieu, let's dive into what the 2024 Ford Ranger has to offer…
Robust Powertrains
As the old saying goes, if it ain't broke, don't fix it. The 2.3L EcoBoost Turbo I-4 that was available on the 2023 Ranger is plenty capable, offering 270 hp and 310 lb-ft of torque, allowing drivers to get up to 7,500 lbs of towing capacity. This engine will still be available as the base powertrain for the 2024 Ranger, but if you're looking for a little more power, you don't have to settle for the base engine.
New for the 2024 model year is the option to upgrade to an available 2.7L EcoBoost Turbo V6 engine; this beauty is also used by the larger F-150 and Bronco. The V6 can produce up to 315 hp and 400 lb-ft of torque, giving you more power so you can get even more thrills both on- and off-road. Both this engine and the base engine are paired with a ten-speed automatic transmission that has all the gears you need for a nice, smooth drive every time.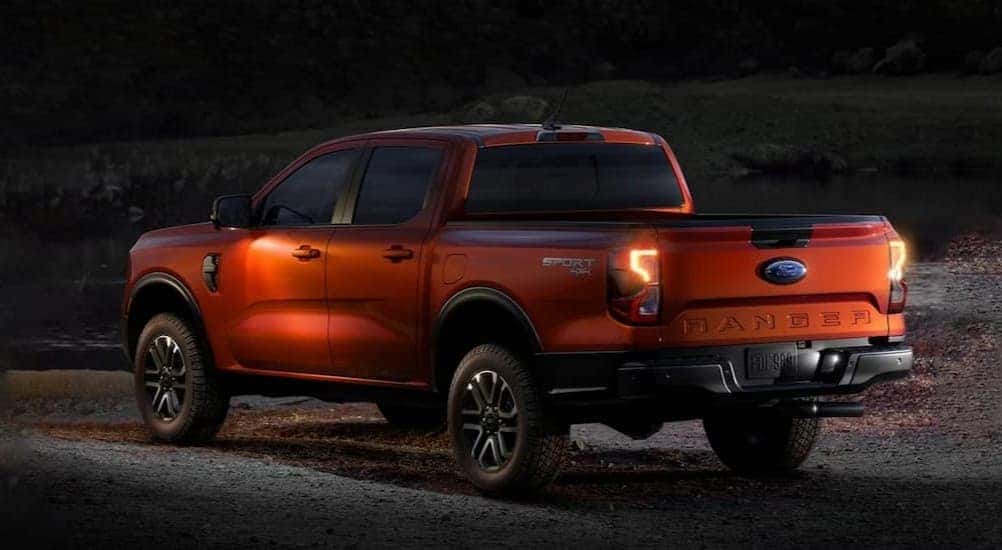 A Piercing Exterior
When designing the next generation of the Ranger, Ford's engineers decided to take the truck in a bold new direction. The front facade takes some styling cues from the larger F-150, including Ford's signature C-clamp-shaped headlights that are both practical and good-looking. The body's contours—like its shoulder lines and wheel arches—have also been updated to give the truck a tougher, more athletic appearance that reflects its outstanding capability.
But there's not just one single front-end styling for the 2024 Ranger. Several trims have unique grilles that make them stand out from the lineup. If you get an XL, XLT, or Lariat model, then your pickup will have a distinct face that's sure to impress your friends and neighbors every time you roll up the block.
Technological Leaps
You don't have to be an auto enthusiast to know that onboard tech is improving in spades year after year. The Ranger's tech ranges from its entertainment systems to driver assistance tools and specific features designed around making towing easier and safer. One thing that all these systems have in common is that they'll stay up-to-date for the foreseeable future, even as Ford continues to improve its software; the 2024 Ranger is now capable of over-the-air software updates, so you can keep up with the latest tech without lifting a finger.
Ford's Sync 4A infotainment system makes it easy to take and make calls, get step-by-step navigation instructions, listen to your favorite artists or podcasters, and more. Control everything from the standard 10.1-inch touchscreen or the larger 12.0-inch display, both of which make it easy to see everything at a glance and control your experience with a few taps and swipes. Use built-in apps or connect your smartphone for the apps you already use every day. Best of all, a wireless charging pad for compatible smartphones comes standard on the XLT, Lariat, and Raptor trims, so you can keep your battery charged without getting tangled up in a bunch of cables and cords.
When it comes to driver assistance, there are 31 features available on the Ranger, making this truck a leader in its class. Many of these features are designed with towing in mind; for example, the Blind Spot Information System (BLIS) has Trailer Coverage, keeping track of the larger blind zone created by pulling a large trailer. In addition to helping you out while you're on the road, the Ranger also has features to improve your experience parking and maneuvering at low speeds; Pro Trailer Backup Assist and Trailer Reverse Guidance provide you with special camera angles to show you the area surrounding your truck, a knob that makes it easy to refine your steering, and even real-time coaching to guide you safely into place.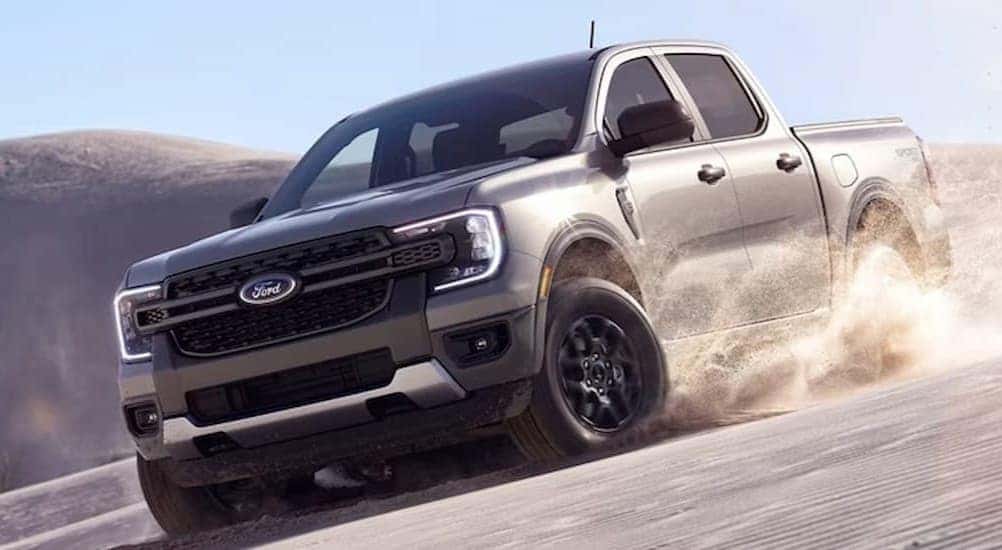 The Ranger Raptor
If you enjoy taking your truck off-road, then you're probably familiar with Ford's Raptor vehicles. The F-150 Raptor and Bronco Raptor are both well-established as rugged beasts that can tackle all kinds of terrain, but a full-size truck isn't always the best option when you're hitting the trails. The more compact body of the midsize Ranger is easier to maneuver around tight corners and between obstacles like trees and boulders. That's why it's so exciting to learn that the performance-oriented Ranger Raptor is making its American debut for the 2024 model year.
Under the hood, the Ranger Raptor sports a unique 3.0L EcoBoost Turbo V6 that generates 405 hp and 430 lb-ft of torque, giving you the power you need to have thrilling joyrides in the open desert and or crawl over mountainside boulders. This Raptor also boasts a long-travel suspension designed to handle rough terrain with ease, and it includes a Watts link rear suspension to make your ride nice and smooth, no matter your terrain. The 2.5-inch Fox live valve shocks will not only improve your truck's suspension but also reduce overheating, meaning that you can keep driving all day long without being obligated to take a break.
From desert sands to rocky mountains, the Ranger Raptor can handle a wide range of terrain types. Instead of trying to use a one-size-fits-all model when it comes to the vehicle's settings, the Ranger features selectable drive modes that let you get just the right performance for your situation. It's easy to switch between Normal, Tow/Haul, Sport, Slippery, Off-Road, Rock/Crawl, and Baja at a moment's notice. These settings affect everything from the tuning of the engine and transmission to steering and throttle response, so the slight twist of a dial can make a significant difference in performance.
The Next-Generation Ranger at Pauli Ford
Whether you're familiar with past generations of the Ranger or have never even heard of Ford's midsize truck until now, you can get to know the 2024 Ranger by taking it for a spin here at Pauli Ford. Reading about a truck's stats and technology can give you a lot of important insight, but there's simply no substitute for getting behind the wheel.
When you get a feel for how the Ranger handles, get an up-close and in-person look at its stylish exterior, and feel how comfortable the cabin is, we know you'll see why this new generation has been getting so much hype.