The History of the Great F-series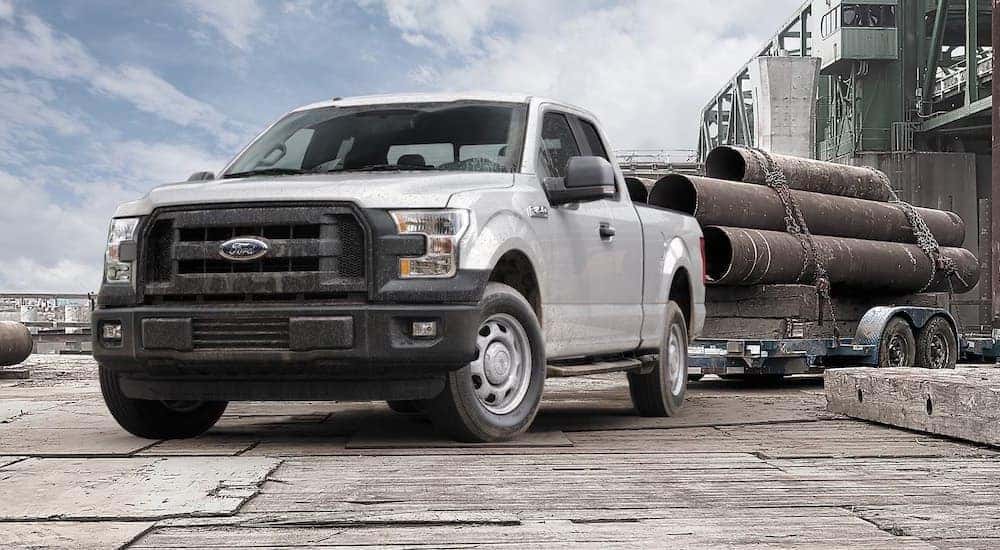 Ford is one of the most iconic American car brands. More industries than we can imagine rely on Ford vehicles every day to haul important cargo from one destination to another. Ford cars are part of the backbone of American society, so if you're considering purchasing a pre-owned vehicle, you can't go wrong by visiting a used Ford dealership. While Ford is always adding new and exciting vehicles to their lineup, there's also a lot to love about a used Ford.
Speaking of beloved old Fords, let's look at some of the top-selling Fords of all time—the Ford F-Series. With over a century of models, the F-Series has been part of the fabric of American history for quite some time. Each new rendition brought interesting changes and innovations. Looking at each generation of this vehicle, you can almost get a look into what America was thinking, feeling, and focusing on at the time. Here's a brief overview of the history of the great Ford F-Series.
Early Signs of the F-Series
The very first car to foreshadow what would be the F-series was the Model TT Pickup in 1917. It was a play-off of the Model T, featuring the same engine but with a more robust frame, and sold for $600. Within a decade of its release, 1.3 million customers purchased a Model TT Pickup, showing Ford just how popular this series could be. And those predictions did not fail them.
Next came the 1935 Model 50 Pickup. It ditched the clunky, long nose of the Model TT for a less conspicuous profile and a Ford flathead V-8 engine. Though popular, this car was short lived as Ford put a halt on the production of their trucks to get to work on items for America's WWII efforts.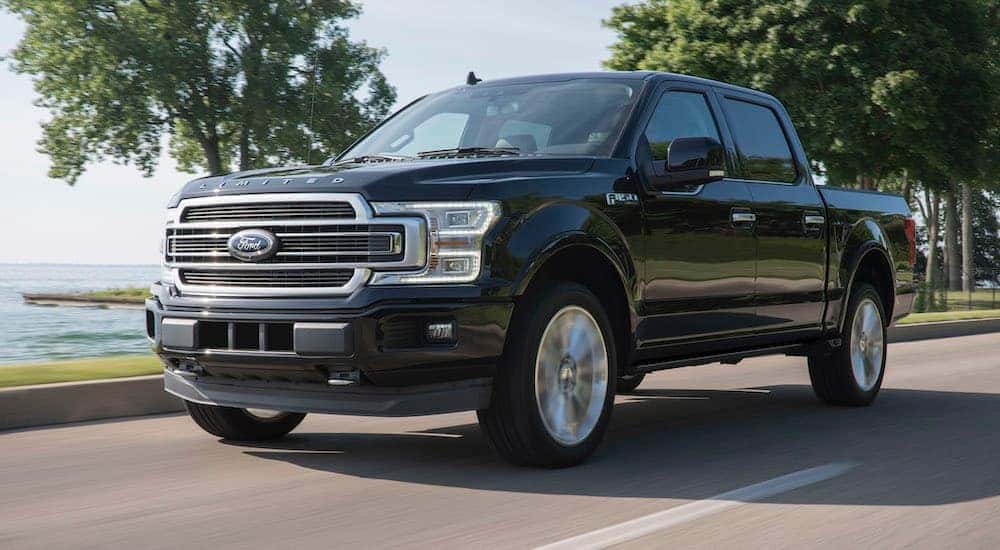 Generations One Through Three
After Ford had put in its efforts for the war, it returned its focus to consumer trucks in 1948, and this is when we saw the first true and official F-Series with their F-Series Bonus Built trucks. These came in a variety of sizes and would mark the beginning of the F-series lineup as we know it today. These would be the true first generation of F-Series trucks.
Next came the classic vintage F-series, with its iconic squared-off look. This would be the F-1, which would later be called the F-100. F-2 and F-3s would become a part of the Ford F-250 series, and the F-4 would roll into the F-350. This was a gorgeous car with accentuated hub caps and large headlamps. Many classic films in the 1950s would feature this vehicle. Roll up to a vintage car show today, and you might just catch one of these. The third-generation, which was produced from 1957 to 1960, would be the first to boast four-wheel drive and had a slimmer, more squared-off look than the previous one. The later years of this vehicle would feature two-tone designs and large letters spelling "FORD" across the front.
Generations Four Through Six
The fourth-generation F-series, out in 1961, featured the traditional solid-axle suspension, making it a work-ready car that was consumer-friendly. This marked Ford's transition into creating cars that were undeniable workhorses but also appealing to the normal driver. The fifth-generation saw some eye-catching design changes, like embedded headlights in the grill, block lettering on the hood, and a roomier cab offering passengers more shoulder room. Many would say that the sixth-generation took a step back design-wise, with a slightly more retro look thanks to a concave body-length groove. It featured center-facing jump seats or a small bench with a foldable cushion.
Generations Seven Through Nine
The year 1980 would see the introduction of the truck Ford itself called "The first new truck of the 1980s," and any child of the eighties would agree that this truck's aesthetic fit right in with the times, with its three-tone design. Ford had made some major changes, aside from the looks, though, adding a more luxurious interior and improved aerodynamics. Generation eight would see the addition of power steering, power brakes, and rear anti-lock braking, which would become standard in Ford vehicles. It also enjoyed a higher horsepower and a good deal of torque, making it a powerful machine.
In 1992, Ford made a stylistic choice and introduced the Nite Edition—a four-wheel drive truck only available in all black with blacked-out trim. It wasn't around for long, but when it was, it proved to be quite popular. In fact, in 1992 it outsold the Volkswagen Beetle. Ford played with bold style choices for a while in the ninth edition, with the addition of the Ford F-150 SVT Lightning. This was a sporty truck that only came in a single-cab model with a short-box configuration. Buyers could get it in red or black—nothing else.
Generations Ten Through Thirteen
Ford had paid enough attention to aesthetics throughout the eighties and most of the nineties and wanted to turn its attention back to function and performance for the late 1990s and early 2000s. This is when we saw a major redesign and a truck that was clearly made to be more family-friendly and everyday-ready. The 1997 Ford F-150 featured a lighter chassis and a front body that nearly resembled an SUV, perhaps to signal to families that Ford was entering their market.
By the 11th generation, Ford ceased to be subtle about their ambitions. They were staking their claim in the market for regular consumers—not just those looking for a work truck. The 2004 F-Series was bigger than ever and designed to be comfortable for long drives and hold more passengers. Perhaps worrying that they'd left their original customer base behind, Ford got back to their roots with the 12th generation F-150—the 2009 Super Duty. It was boxy, had a prominent grille, and boasted 20-inch chrome wheels. It was Ford's way of saying, "We haven't left the off-roaders behind."
The same could be said of the 2015 F-150, which featured a predominantly aluminum body atop a steel frame, making it incredibly light. This would be a top seller in the F-series lineup. Focusing on performance again, the F-150 Raptor 2.0 took the truck scene by storm in 2015 with a twin-turbo EcoBoost V-6 engine and impressive tires. It appealed to off-road junkies, workers, and casual drivers alike. The 2018 F-150 would see the addition of the long-awaited half-ton diesel option.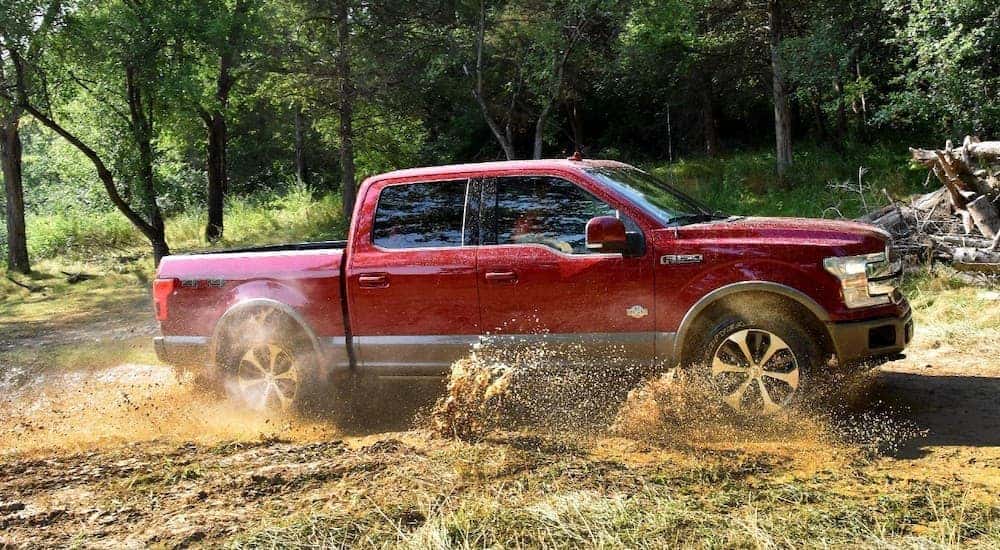 Fourteenth Generation and Beyond
This brings us to the F-Series as we know it today. The 14th generation would introduce infotainment and technology we've come to expect, like massive touchscreens and a variety of engine options. 2021 would bring Ford into the eco-conscious market with the Ford F-150 hybrid. Finally in 2022, Ford introduced their all-electric Ford F-150 Lightning, with its impressive horsepower and 300-mile range.
A History of Excellence
As you can see, Ford has always been hard at work determining what drivers will want next, staying a step ahead of trends, and anticipating customer needs. We can't wait to see what future generations of the F-series have to offer. Ford has a reputation for making reliable cars that stand the test of time, both in performance and style. If you are looking into used cars, Ford deserves your attention. And its F-Series should certainly be top of mind. Many models from this lineup have been top sellers over the years, and we have a feeling the accolades aren't over yet.