The Real MVP of Compact Crossovers: The Ford Escape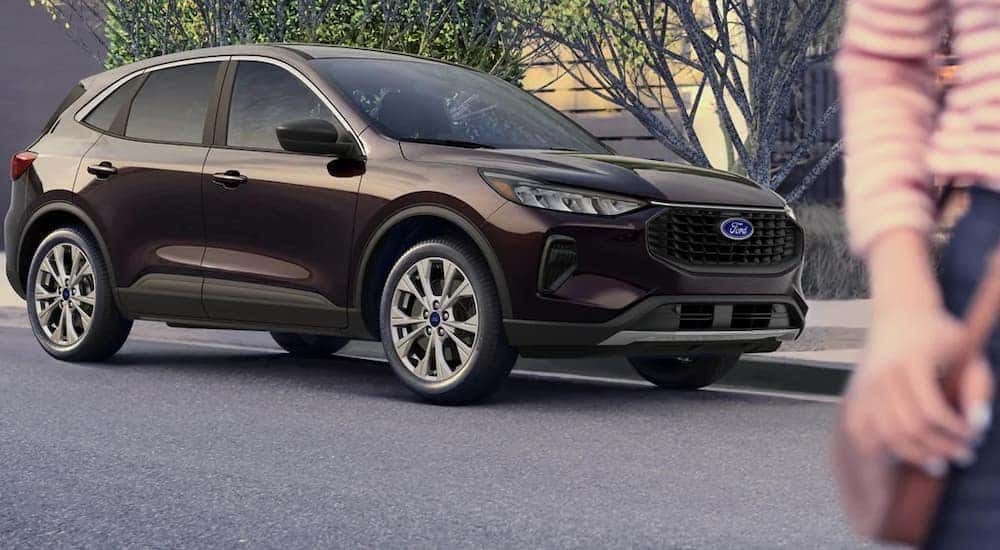 Compact crossovers are among the best-selling SUVs in the industry because they effortlessly offer the efficiency and handling of a sedan but can readily accommodate passengers and cargo in their larger cabins. Some automakers achieve this balance better than others, making options like the used Ford Escape for sale a fan favorite on our lot. The Escape embodies Ford's outstanding reputation for giving drivers everything they want and more in a vehicle, with the Escape praised for its affordability, reliability, and versatility. It's a trifecta Ford has mastered, and it shows in the Escape.
First introduced in 2001, the Escape is the smallest in Ford's SUV lineup and proves looks can be deceiving because its cabin is expansive and versatile. The Escape uses its compact size to its advantage, making it easy to maneuver and responsive at any speed. Of course, some models do this better than others, with newer generations of the Escape offering this versatility and an expansive suite of advanced technologies, premium features, and comforts.
So, what can you expect when shopping for a used Ford Escape for sale on our lot? As your Ford destination, we're here to kickstart your search. Here's why third-generation Escape models built since 2017 get our top vote!
Third-Generation Ford Escape
Ford introduced the third generation Escape in 2013 with a more aerodynamic profile, the MyFord Touch entertainment system, and conveniences like a hands-free liftgate. While these models are a great find, you'll enjoy more features in models built after the Escape's mid-cycle refresh in 2017. These refreshes allow automakers like Ford to respond to driver feedback, which Ford did remarkably in 2017 by outfitting the Escape with a more modern design and advanced technologies.
Riding on its success as the best-selling SUV in the class, the 2017 Escape features a contemporary design that mimics the larger Edge, with its front grille and reshaped LED taillights. In addition to these aesthetic updates, the 2017 Escape introduces the SYNC Connect technology. This feature lets you access the Escape via the SYNC Connect app on your smartphone, making it possible to remotely start the engine or lock and unlock the doors anywhere you are.
The 2017 Escape also includes an expansive suite of driver-assist features and more efficient powertrains that add to its value on the used lot. For example, the 2017 Escape was the first in the Ford lineup to come with Auto Start-Stop technology with the 1.5L or 2.0L twin-scroll EcoBoost engines. By automatically stopping the engine when idling, the Escape saves fuel and eliminates tailpipe emissions. In addition, since the technology automatically engages when the brake pedal is released, the power flow is seamless, actively conserving fuel without hindering performance.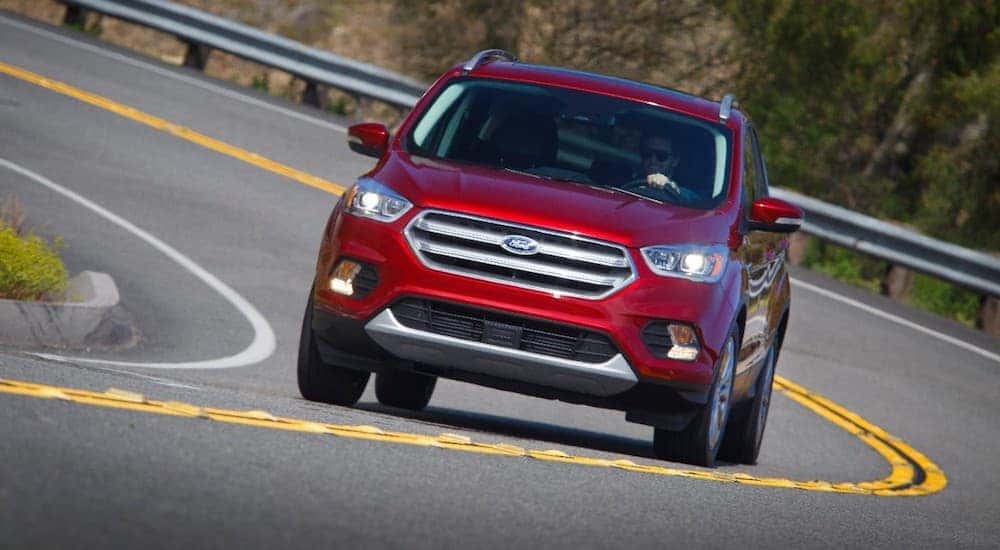 In addition to this start-stop technology, the 2017 Escape includes advanced driver-assist tools like adaptive cruise control, a lane-keeping system, enhanced active park assist, and collision warning with brake support. Adaptive cruise control is an exceptional tool that can significantly impact your experience on the highway by constantly monitoring traffic and adjusting the Escape's cruising speed as needed. Other features like the lane-keeping system and Driver Alert System work behind the scenes, heightening your situational awareness and actively minimizing the potential for collisions.
Like the SYNC system, the 2017 Escape's driver-assist features are comparable to what you'll find on the newest models. This is a significant advantage for budget-savvy shoppers because it lets you reap the benefits of these technologies without investing in a new Escape. As a result, your money goes further on a 2017 Escape without forcing you to compromise on these features that can positively impact your experience in the driver's seat.
Fourth-Generation Ford Escape
Our second recommendation is to shop for a fourth-generation Escape, which Ford debuted in 2020. These models celebrate the Escape's rich history as a segment leader and include two hybrid options appealing to drivers looking to save more money at the pump. But before we get ahead of ourselves talking about hybrid capability, let's dive into the basics of what makes the 2020 Escape a showstopper.
The 2020 Escape rolled off the factory floor intending to set new benchmarks of excellence and ingenuity. The compact crossover accomplished that feat and is the closest you can get to a new model without paying the new car sticker price. Ford equips the 2020 Escape with sliding second-row seats that heighten the SUV's versatility and make it easier to access the rear cargo area, which can accommodate everything from dog crates and a few sets of golf clubs to luggage, groceries, and camping gear.
Ford adds outstanding value to the Escape by making the Ford Co-Pilot360 suite standard across the lineup. Top-tier trims offer Ford Co-Pilot360 Assist features like Adaptive Cruise Control with Stop-and-Go, Evasive Steering Assist, Voice-Activated Navigation, Lane-Centering, and Active Park Assist 2.0. Why are these tools important? While the 2017 Escape's adaptive cruise control is exceptional, Ford finetunes the technology to work in stop-and-go traffic on the 2020 model. Therefore, instead of disengaging the cruise in rush-hour traffic, you can keep it engaged, and it will do the work for you, bringing the Escape to a controlled stop and resuming speed when safe.
Besides the Escape's extensive safety and driver-assist features, Ford also significantly improves the fourth-generation Escape's connectivity and entertainment features. For example, fourth-generation models have an eight-inch touchscreen infotainment display and a 12.3-inch digital instrument cluster. In addition, the center display features Ford's SYNC 3 infotainment system, giving you seamless access to your smartphone via Apple CarPlay or Android Auto and access to tools like Waze and Ford+Alexa.
As far as its heartbeat, the fourth-generation Escape is a mighty road warrior. Ford lightens the SUV's load by 200 pounds, rebuilding its frame with high-strength steel to improve its rigidity, heighten your safety, and take its handling to the next level. The result is incredible, whether you opt for Ford's proven EcoBoost engines or the hybrid powertrains that offer an estimated range of 400 miles. If you can find a 2020 Escape with a hybrid powertrain and front-wheel drive, you can reap the rewards of a best-in-class 550-mile range.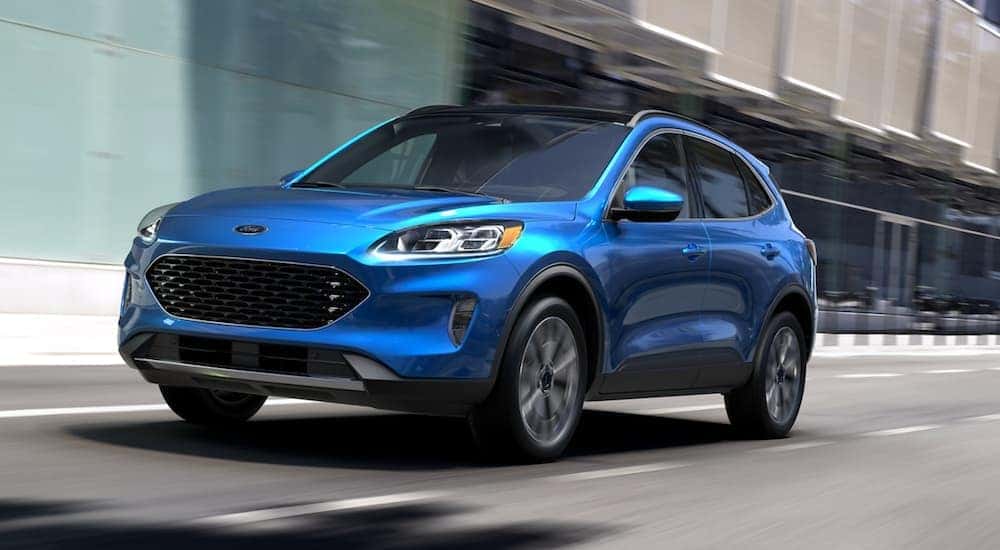 Other Considerations: Know Before You Buy
The Ford Escape helped establish the compact crossover segment in the new millennium by introducing drivers to a new standard of versatility, efficiency, and innovation. With each new generation, Ford has successfully balanced the Escape's best-selling characteristics with modern upgrades that usher the SUV into a new era. You'll see this everywhere, from the Escape's mid-cycle refresh in 2017 to its fourth-generation debut in 2020.
Excellence is guaranteed with every Ford, especially best-selling models like the Escape. This excellence is two-fold because you can confidently shop for a used model and know you're getting an exceptional vehicle. At the same time, it also makes your options plentiful and potentially overwhelming. We're here to mitigate that overwhelm and encourage you to start your search based on your must-haves in your next vehicle. Evaluate your budget and priorities, like whether you value having tools like Apple CarPlay and are willing to spend a little extra or want to save even more money and still reap the benefits of driver-assist tools like adaptive cruise control. Fortunately, with Ford and our team, you can never go wrong, and it shows with versatile SUVs like the Escape.