What's a Great Ford for Central Michigan?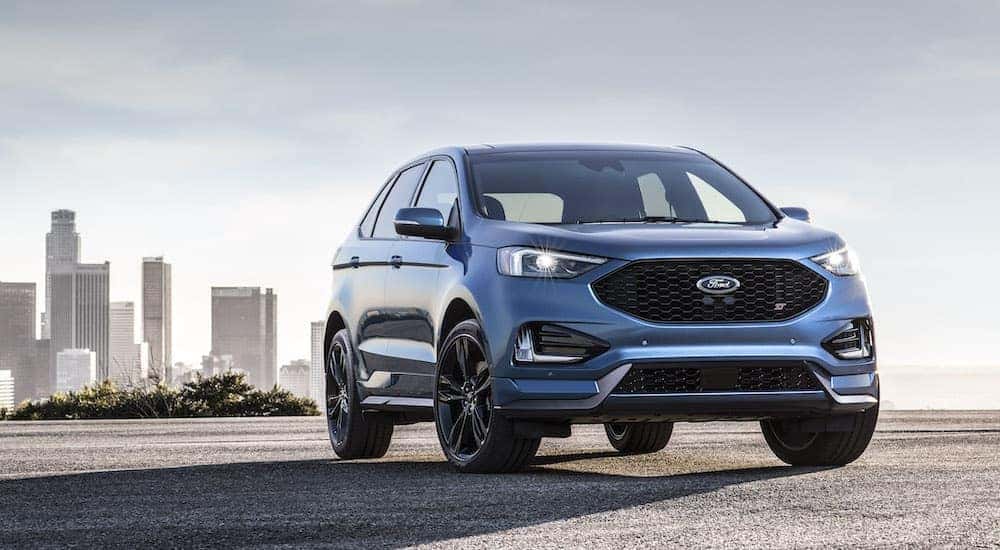 If you live in Central Michigan, is there a vehicle you should consider above others? While we all have different tastes—a fact the automotive market clearly understands, we here at Pauli Ford, your Ford dealership in Central Michigan, have the perfect Ford for you. Here in Michigan, we deal with snowy winters and sometimes VERY rainy springs and falls, but we enjoy our glorious summers. We need vehicles that can take us through our seasons and help us enjoy our summers outside. If you're not sure what's best for you, here's a look at a few of the best Ford vehicles for Michigan drivers.
Here in Michigan, we're intent on both getting our work done and enjoying outdoor activities, whether that means skiing, hiking, fishing, hunting, or attending sporting events. Even if we're not hauling equipment, we often like to bring our friends, and we need vehicles that can keep us safe on all kinds of roads, in all sorts of conditions. A lot of us also grow things, and our crops range from hundreds of acres of corn, hay, or livestock to backyard vegetable gardens. Since we're frequently prone to thrift, we don't want to spend more than we have to. Ford has many answers to these needs, so we'll consider the used versions of a few great options – good buys when today's autos can usually be expected to reach or exceed 200,000 miles.
The 2019 Ford Edge, Perfect for Towing
Given the popularity of fishing in Central Michigan, whether it be on Saginaw Bay or Lake Michigan, this seems like a no-brainer, so let's consider a couple of vehicles that can carry out this all-important task, as well as get you back and forth to work through the winter, and carry your kayaks, canoe, or camping equipment in the summer. A typical bass boat weighs about 1500 lbs, and their trailers run about 800 lbs. This means that you'll need a vehicle capable of pulling 2300 lbs. Ford has a variety of vehicles that can meet this need, so we'll look at two that offer varying towing capacities, as well as plenty of room for cargo, team members, friends, and family.
First, is the Ford Edge, the 2019 model in particular. Rated 7.9 out of 10 by US News and World Report, that year, the Edge also captured their top award as Best 2-Row SUV for Families. (It was a finalist for Best 2-Row SUV for the money, too!) Available in four trims, the SE, SEL, Titanium, and ST, the 2019 Edge seats five, has an 8-speed transmission and a choice of two engines, a turbocharged 250 HP, 2.0 L 4-cylinder, or a twin-turbocharged 335 HP 2.7 L V6, the latter standard in the top trim ST. The Edge is also available with FWD or "intelligent" AWD (meaning that it applies torque to each wheel as needed—handy on snowy roads during Michigan winters.) In the ST, AWD and the higher-powered engine are both standard. With an above-average reliability rating and a fuel efficiency rating of 22 mpg in the city and 29 mpg on the highway, the 2019 Edge earned an overall "5" safety rating from NHTSA.
Unsurprisingly, it's equipped with Ford's Co-Pilot 360 safety system, which includes elements such as a rear view camera, lane-keeping and blind-spot information systems, cross-traffic alert, rain-sensing wipers, and more. The SEL, Titanium, and ST also have evasive steering assist, adaptive cruise control, and lane-centering features. 18″ wheels are standard on the first two trims, with 19″ wheels on Titanium and 20″ wheels on the ST (The ST's Performance package adds 21″ wheels).
The Edge can tow 1500 to 3500 lbs, depending on whether you have FWD or AWD and whether the related towing package has been installed. (Note that to tow that bass boat, you'll need AWD, the more powerful engine, and the Class II Trailer Tow Package, all of which are standard in the top trim ST but available on other trims).
Though the Edge isn't designed for serious off-roading, it should easily get you in and out of the campgrounds scattered throughout Central Michigan. Whether you're headed to Clinton Lakes with the bass boat, Sleepy Hollow State Park for a little hiking or bird watching, or the Shiawassee River to kayak, you'll be able to bring what you need. Other features, available by package or in upper trims, include heated leather seats, a panoramic sun and moonroof, navigation, LED headlights, a 12-speaker Bang & Olufsen stereo system, and more.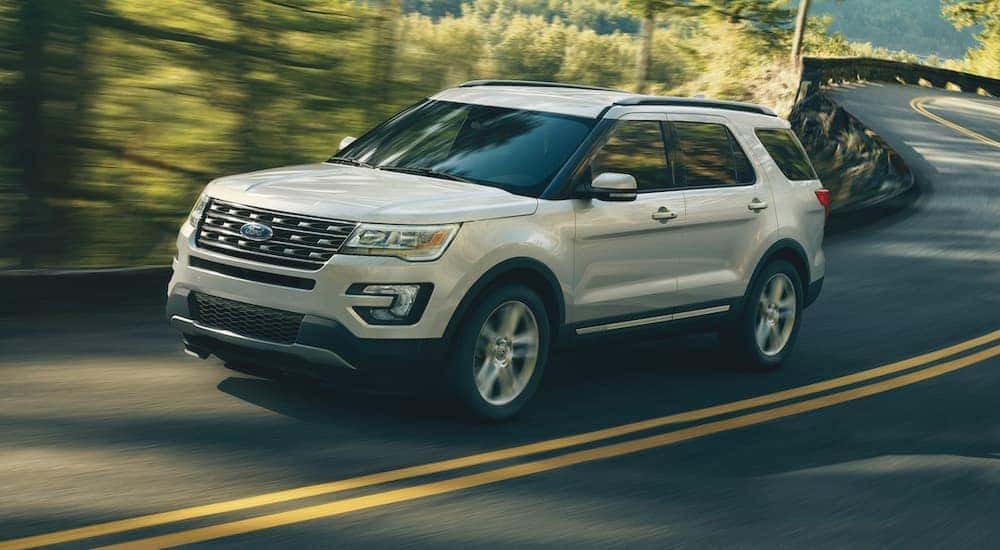 The 2019 Ford Explorer: For When You're Bringing Everyone
If you need to tow a little more, carry a few more people, or want the additional power of 4WD, consider the popular three-row, 7-passenger Ford Explorer.The 2019 version is available in five different trims—the Base, XLT, Limited, Sport, and Platinum. And this Explorer has a range of engines. A 290 HP, 3.5L V6 engine is standard on the Base and XLT. Two other engines were available in that model year, a more fuel-efficient 280 HP, 2.3L 4-cylinder standard on the Limited and rated at 19 mpg in the city and 27 mpg on the highway in FWD, compared to 17 mpg in the city and 24 mpg on the highway with the FWD 3.5L V6.
A twin-turbocharged 365 HP, 3.5L V6 is standard, along with 4WD, in the Sport and Platinum trims. The 290 HP and the 365 HP engines can haul 5000 lbs when properly equipped with a Class III Towing package, and the smaller 280 HP engine, which is standard on the Limited, can haul 2000 lbs when equipped with a Class II Towing package. (According to Ford, if you add 4WD as well, you can tow up to 3000 lbs.) The Base model comes with standards such as hill start assist, roll stability control, curve control and trailer sway control, a 4.2″ color LCD screen, remote keyless entry, and a 6-speaker stereo system with a CD player. Higher trim levels and packages enable adaptive cruise—useful for the frequently-changing speeds on county highways, in addition to forward collision warning with brake support, lane-keeping assist, paddle shifters, a front 180-degree camera, voice-activated navigation, a moonroof, a heated steering wheel, a foot-activated liftgate, and more.
The Intelligent 4-wheel drive with its Terrain Management system and hill descent control will be useful for gentle off-roading and will serve to get you out of most inadvertent trouble. The 7.8″ ground clearance will aid with the poorly maintained or infrequently-driven two-tracks that many of us find on our own property. Opt for the twin-turbo engine and bring along a small travel trailer. Whatever capabilities you're looking for to help you navigate through the often challenging off-road terrain of Central Michigan, there's an Explorer specifically built for what you're looking for.
And if You Farm, the 2018 F-150 Has You Covered
You undoubtedly know someone who owns an F-150, especially if you're part of Michigan's farming community. Extremely popular in our state, which, along with the nation, purchased more F-Series pick-ups than any others in 2021, the F-150 has a long history of reliability, sturdiness, and longevity. If you're thinking about upgrading to something capable of hauling bigger loads, you might want to consider the 2018 Ford F-150—perfect for delivering hay to your stock during the winter or hauling fertilizer for the garden in summer. If you have a yen for walleye, maybe you want a Great Lakes boat you can drop into Saginaw Bay. Either way, the Ford F-150 is an excellent option, with 2018 being a great year for the model.
The 2018 F-150, given a 4.8 rating by cars.com and an 8.1 by Edmunds, came in seven different trims, the XL, the XLT, the Lariat, the Raptor, the King Ranch, the Platinum, and the Platinum Limited. As always with this vehicle, there were a huge host of configurations, ranging from engine, cab size, and bed length to various interior and exterior features such as heated, cooled seats and varying wheel sizes, from 17″ to 21″.
The 2018 F-150 offered five different engines. First, the new base engine, the 3.3L V6 with 290 HP, standard on the XL and XLT, is paired with a 6-speed transmission and three drive modes (normal, tow/haul, and sport). The twin-turbocharged, 325 HP, 2.7L V6 (optional on the base trims and standard on the Lariat) debuted that year, and the engine lineup also included two 3.5L V6 engines. The first, with an output of 375 HP with 470 lb-ft of torque, is standard on the Limited and available for all other trim levels but the Raptor. The Raptor got a standard, new-in-2017 3.5L high output engine, generating 450 HP and an impressive 510 lb-ft of torque. There's also a 395 HP, 5.0L V8, which pulls 400 lb-ft and is standard on the King Ranch and Platinum trims.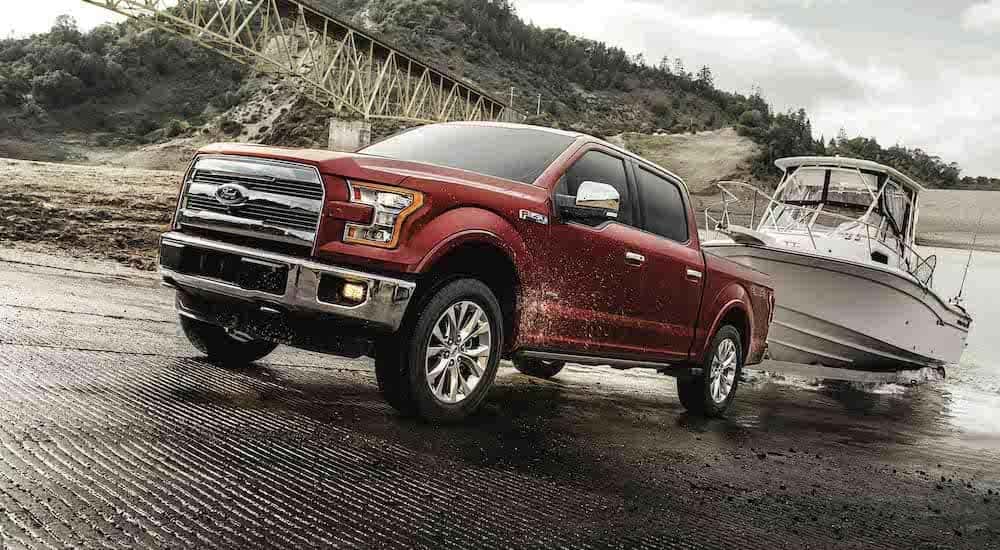 In 2018, all F-150 engines but the 3.3L were paired with a 10-speed transmission featuring five drive modes—normal, tow/haul, snow/wet, eco-select, and sport. Both transmissions employ Ford's Auto Start-Stop fuel efficiency feature, which improves fuel use. In later 2018, Ford added another F-150 engine that did even more for mileage—the 3.0L, 250 HP Power Stroke, a diesel option rated at 20 mpg in the city and 25 mpg on the highway, depending on the axle.
If you want to tow more, the F-150 can likely bring it, with a max capacity of 13,200 lbs. Taking a ski or heavier fishing boat up to Saginaw Bay? You'll need to be able to tow 5000 to 7000 lbs, depending on your boat's weight. A properly configured 4×4 F-150 can do that, even with the smaller 2.7L engine, which can pull 9000 lbs, and the diesel Power Stroke, which tops out at 7000 lbs. If towing or hauling something large is important to you, be sure to discuss it with your Ford dealer, so you're sure to get a truck configured to manage it.
Safety features such as roll stability and curve control, trailer sway control, and the SOS Post-Crash Alert System are standard on the 2018 F-150. Driver assistive tech such as adaptive cruise, pre-collision assist, and pedestrian detection are also available. In short, the F-150 is a highly versatile vehicle. The same truck you use to haul produce to the Lansing farmers' markets can keep you from getting bogged down when hunting out at Maple River State Game Area or get you and your fishing boat to the big lake. You can even throw tubes in the back and take the kids up to float the Chippewa River in Isabella County without breaking the bank on gas costs.
There's a Ford for Everyone
Whatever vehicle you choose, and there are many options to consider, Ford can keep you safe and happy on the highway, let you bring your stuff and your friends, haul your produce in and out of the farm, and provide you with an enjoyable driving experience. At Pauli Ford, your premiere Central Michigan Ford dealer, we welcome you to visit us and experience these vehicles for yourself. No matter what you're looking for, there's a Ford model tailored to your specific needs to handle the challenges of living in the Central Michigan area.