Which Ford Models Are the Most Comfortable?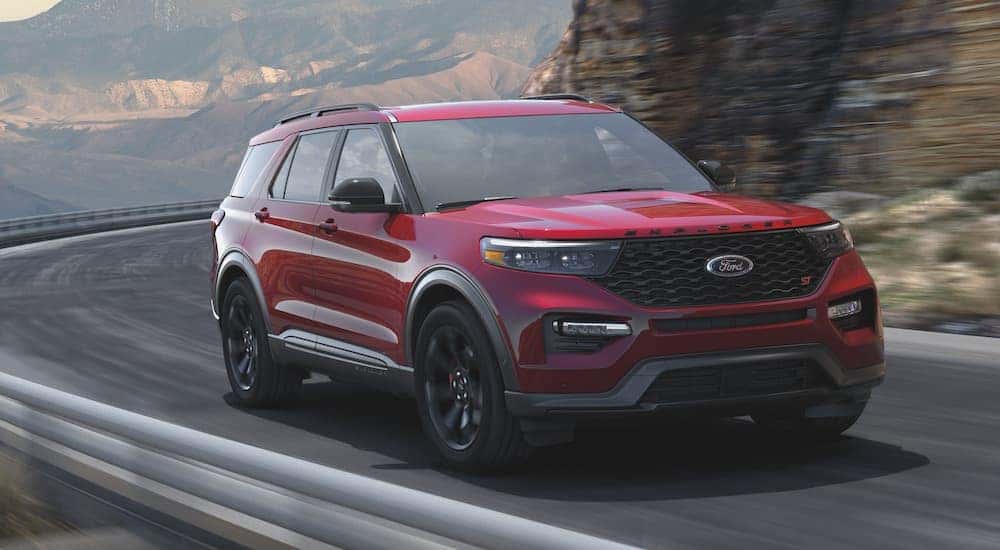 People consider many things when shopping for a new vehicle. Usually, it's style, power, or price range. For many consumers, comfort is a top priority in their next vehicle. When focusing on comfort, consumers typically look for a vehicle built with a welcoming and cozy interior, convenience features, or even driver assistance technologies that make any commute easier and free of stress. Looking for things like soft seating, cloth or leather upholstery, easy-to-use climate control, lumbar support, and easy connectivity is not uncommon when comfort is in mind.
Ford knows a lot about creating a comfortable environment for its drivers. With over 100 years of expertise in building cars, Ford has never had trouble finding the sweet spot when it comes to merging performance and comfort in one vehicle. Ionia area drivers know what it means to depend on their vehicles for everyday comforts. Thankfully, they've got us here at Pauli Ford, located conveniently in Saint Johns. We are a Ford dealer Ionia residents can count on, offering an array of Ford models that balance power, safety, and, of course, comfort. If you're wondering which Fords fit the bill, take a look at our breakdown of this brand's best in value and comfort.
What Makes a Ford So Comfortable?
When a car makes us feel relaxed, at home, and even confident, it goes a long way in determining whether it will be an enjoyable vehicle that can be used daily. Think about the amount of time you spend in a vehicle each day. It's similar to the level of comfort you expect from your home furniture. If you're going to be spending a lot of time behind the wheel, the seating better provide the same consistency as your sofa, along with ample space and great safety and performance features that maximize confidence on the road.
Ford understands that building a quality vehicle goes a long way toward making drivers feel safe behind the wheel. The lineup of Ford models includes several that fit the mold. Ford's sedans, trucks, and SUVs possess valuable qualities that attract consumers looking to have it all; comfort, convenience, and style. While many of the brand's models are exemplary rides, we picked the Ford Explorer, Bronco, and Mustang MACH-E. These three vehicles are stacked with conveniences from the interior to performance.
The Ford Explorer
The Ford Explorer is a classic among the brand's lineup. Around for over 30 years, this three-row SUV has been a go-to for active families from its earliest days off the assembly line. Easily fitting 7 to 8 passengers, the Explorer is designed with ample cargo space. This SUV feels roomy even when seated at capacity. When you need to travel with suitcases, sporting equipment, party supplies, or even camping gear, the seats fold down and provide even more room, with an available 87.8 cu.ft. of space. The interior is made with the highest quality cloth or leather materials, available with heated seats, tons of lumbar support, and simple-to-operate 8-way adjustable driver and passenger chairs. If you're taking your Explorer out for a road trip or find yourself stuck in traffic, the available FordPass Connect provides Wi-Fi connection and user-friendly entertainment options for everyone.
One of the most comfortable aspects of the Explorer is its sheer size. The Explorer's 20-inch wheels and 69.9-inch height allow drivers to see everything on the road easily, along with a powertrain that's not too big or too small. This current sixth generation of Explorer models (2020 to present) come equipped with either a turbocharged I-4 or V6 and give just the right amount of power to feel confident driving in any conditions. It comes with handy features like an available hands-free, foot-activated power liftgate to simplify daily activities like having your hands full when approaching the SUV. Plus, a generous package of standard safety features allows Explorer drivers to feel comfortable knowing they're in a vehicle designed to protect what matters most.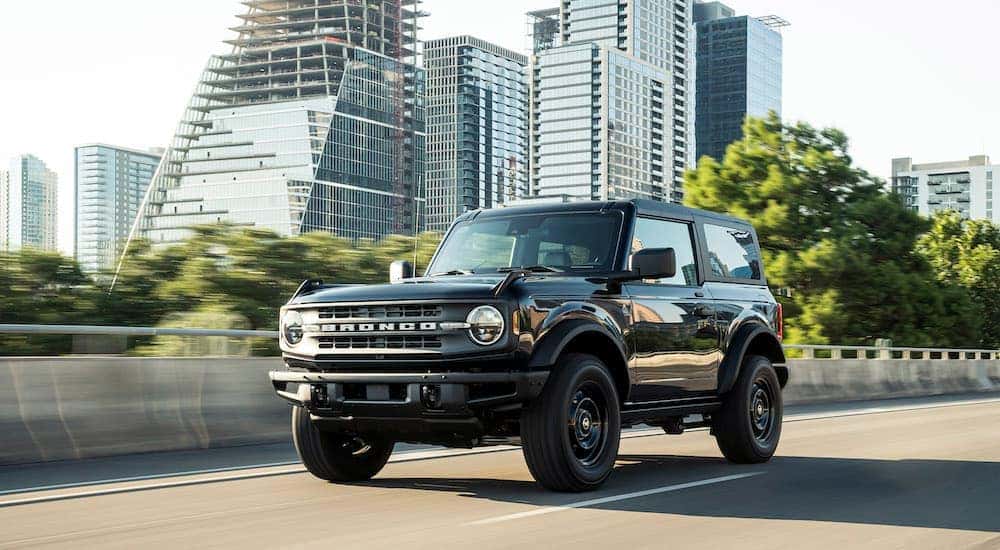 The Ford Bronco
For those who associate comfort with luxury, the Ford Bronco is the vehicle for you. Outfitted with dozens of high-end features, the new-and-improved Ford Bronco is quickly rising to collector's status and making its mark on the automotive industry. Revived in 2021, the new Bronco is powerful, aesthetically pleasing, and dripping in creature comforts. The Bronco and Bronco Sport editions are two powerhouse SUVs, comfortably seating five passengers and designed with adventure in mind. If you're into off-roading, few vehicles have the sturdy chassis of the Bronco and Bronco sport, making for an incredibly smooth and comfortable ride even on the most challenging of terrains. Standard models include a Terrain Management System, 30-inch P255/70R16 all-season tires, and 4×4 with part-time Selective Engagement to handle rocks, dirt, mud, snow, or sand. Finally, a stylish off-roading vehicle with all the comfortable elements of a quality SUV.
Inside Bronco's cabin, you'll find an 8-inch touchscreen infotainment system, remote keyless entry and push start button, a rearview camera with backup assist grid lines, an available heated steering wheel, a B&O sound system with 10 speakers, and more. Available Wi-Fi and voice-activated navigation allow you all the tech comforts while on the road. If you like the feeling of the great outdoors, Bronco also has removable rear windows. The generous-sized center console is roomy and locks your belongings, as well as provides two 12V DC power outlets to charge your devices. The interior fabrics are soft yet durable and come in cloth and leather-trimmed seating. Overall, Bronco is ready to join you on every adventure.
The Mustang MACH-E
What feels more comfortable than saving money? The Ford Mustang MACH-E lands on the list of comfortable Ford models because what feels better than making environmentally friendly decisions with your vehicle while also saving money on fuel? On a full charge, the Mustang MACH-E allows you 290 miles of range. This is the comfort of no longer being completely reliable on gas. The SUV's performance also offers peak comfort with an acceleration of 0 to 60 mph in just 3.5 seconds. Adaptive dampers add or subtract the firmness in the ride, adjusting for turns and offering smooth, seamless performance. On top of that, the ride is enhanced by MACH-E's incredibly quiet engine.
Inside, the cabin is lined with sleek, modern materials that look upscale and are easy to maintain. An intuitively designed dashboard features a large, vertically mounted 15.5-inch touchscreen infotainment system that pairs easily with all your electronics. The center console offers a floating flip-up armrest for smaller items like purses to sit between the front seats. Enjoy customizable ambient lighting, heated front seats and steering wheel, a Bang & Olufsen sound system, a panoramic sunroof, a power liftgate, and wireless charging. Comfortably pack all your belongings in 29 cu.ft. of cargo space behind the backseat and up to 60 cu.ft. of cargo space if the backseats are folded down. Sporty yet packed with conveniences, the Mustang MACH-E is easily one of the most comfortable EVs on the market today.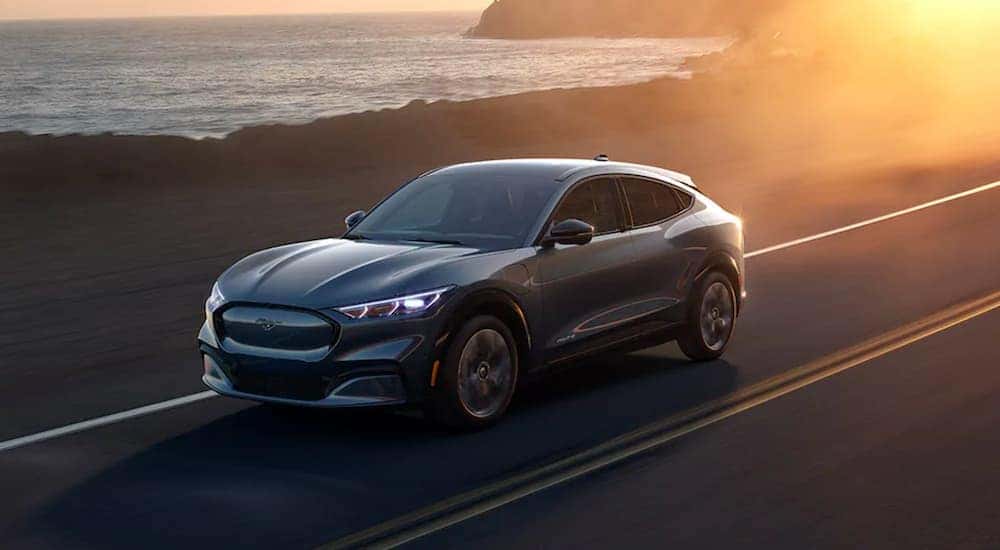 Experience Next-Level Comfort
Looking at the features of the Ford Explorer, Ford Bronco, and Ford Mustang MACH-E, it's easy to see how Ford has aligned with a mission to design vehicles that are comfortable in more ways than just feeling. These vehicles are comfortably outfitted with rich, quality materials, powerful performance, and innovative technologies so that drivers can feel confident choosing any of these vehicles to meet their daily driving needs. Comfort is more than simply a seat material; it's the confidence that you've purchased the right vehicle at the right price and can enjoy that vehicle's perks for years to come.
The Explorer is one of the most comfortable Ford models if you're looking for a three-row SUV to meet the needs of a busy family. Or, enjoy the comforts of an SUV that can handle the great outdoors like the best of them in a Ford Bronco. Maybe your idea of comfort is an environmentally friendly and futuristic ride. Nothing says comfortable and forward-thinking like the Mustang MACH-E. All three vehicles are a sign of all that Ford has accomplished, unleashing ultra-comfortable vehicles for every type of driver. Want to check them out for yourself? Contact us today to do just that.