Why the Second-Generation Ford Raptor Is Well Worth the Purchase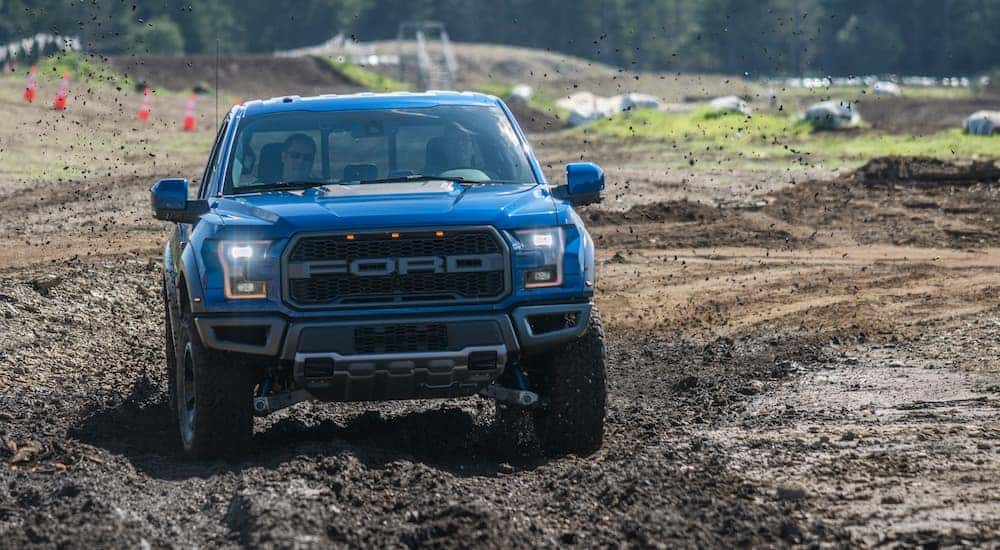 You can find all kinds of great vehicles when you visit a used Ford dealership, but when you spot a Ford F-150 Raptor, be aware—you've hit the jackpot. This model has technically been around since its first reveal in 2008 as the "Ford SVT Raptor," an off-roading beast with a much wider body than the traditional F-150. This first-generation Raptor ran from 2010 to 2014. The Raptor didn't show back up until 2017 as a second-generation Ford model known as the "Ford Performance Raptor." While the first-generation Raptor was known and loved for its large, loud V8 engine, the second-generation's standard V6 offers more horsepower and is more fuel-efficient while being the best off-roader in the lineup.
The 2017 and 2018 Ford Raptor
Aside from some aesthetic changes, the 2017 and 2018 Raptor models are largely the same. These two models are great options if you want the modern tech that comes with a second-generation Raptor without the high price tag of a brand-new model. And we're not just talking about entertainment technologies (although that's a plus, too.) We mean performance technologies that aid your overall driving experience. The most impressive technology worth mentioning is the Raptor's Terrain Modes.
The 2017 and 2018 Raptor's Terrain Modes
The 2017 Raptor includes 6 different drive modes, which are similar to the new Ford Bronco and Ford Bronco Sport's GOAT modes. These include the following:
Normal Mode: This one is rather self-explanatory—use Normal Mode for the perfect commuter experience.
Weather: Be it rain, snow, or ice, the weather plays a big role in your commute. Activate this mode to gain better traction and stay ahead of mother nature.
Mud/Sand: Whether you're trailing through mud or sand, or you're out on the farm after a heavy rain, Mud/Sand Mode is there to bail you out. In fact, this mode can help ensure you don't even get stuck in the first place.
Baja: Sometimes, you need to cross something more intense than a dried-up creek bed in the summer. When it's time to traverse those Silver Lake Sand Dunes, the Raptor has your back.
Rock Crawl: This mode locks you into the lowest gear and makes steep inclines a sinch.
Sport: When you want to experience the Raptor's full racing capabilities, kick it into sport mode for increased throttle and more fun.
This model comes with all the perks you need an off-roading truck to have. It's got beadlock-capable wheels, a 4.10.1 electronically controlled rear locking differential, and 13 inches of ground clearance. Keep in mind that this Raptor can also tow up to 8,000 pounds, with a 1,200-pound max payload capacity. This truck is designed with off-roading in mind, not necessarily towing, so the fact that it can pull this much while remaining trail-capable is definitely a plus. The 2017 Raptor was actually tested in Michigan at the Silver Lake Sand Dunes by Car And Driver, so you can trust that its capability stats will meet your expectations.
You can count on the 2017 and 2018 Raptor models to meet all your convenience expectations as well. You can find these models with heated and ventilated seating, dual-zone automatic climate control, and other handy tech features. Thanks to the Raptor Technology Package, these models may also include driver-assist features such as Lane Departure Warning, Adaptive Cruise Control with Automatic Emergency Braking, and much more. Whether you want to keep it simple or upgrade to luxury, there's a Raptor out there for you.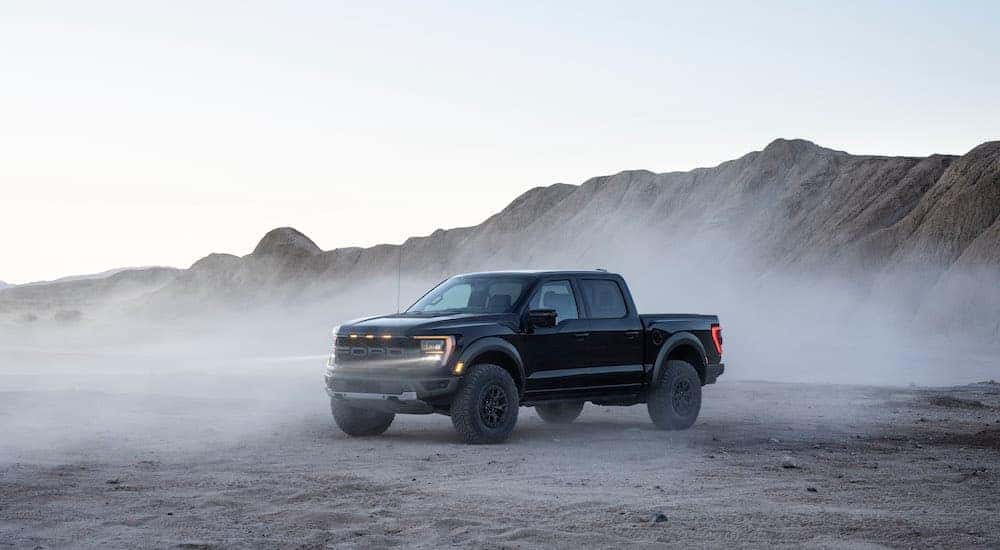 The 2019, 2020, 2021, and 2022 Ford Raptor
Although we're still in second-generation Raptor territory, that doesn't mean that this model stays the same throughout each model year. The 2019 Raptor brings new and important technologies into the picture. This model keeps the same perks as previous models while bringing several new features that make it well worth the extra cash. These changes are so significant that the 2020, 2021, and 2022 models are simply carryovers from the 2019 model, minus a few minor changes. So, what are these important tech upgrades, you ask? Let's take a closer look at what the Raptors can now offer.
Fox Racing Dampers and Trail Control
You don't have to be a vehicle enthusiast to know that suspension makes all the difference when it comes to comfortable commuting. Some drivers may be detoured by how rough off-roading models typically ride. Remember what it was like to ride around in a mid-2000s Jeep Wrangler? Yeah, we do too, and we can confidently say that no one wants to feel like they're riding a roller coaster.
Thanks to the Raptor's Fox Racing Suspension, you can get the best of both worlds—capability, and comfort. The Ford F-150 Raptor's suspension has been great from the get-go, but now, the 2019+ Raptor has standard Fox Racing suspension. This upgraded suspension will automatically adjust based on road conditions. This means that it performs even better over rough terrain, and your daily commute remains smooth and comfortable.
Ford has also added Trail Control to the Raptor's arsenal. Trail Control is essentially cruise control for off-roading. This technology works at low speeds (up to 20MPH in 4WD and 5 MPH in reverse). Much like newer, adaptive cruise control systems, Trail Control will both accelerate and brake for the driver when necessary. Trail Control can detect when road conditions are rough, doing the work for you so that you can focus more on the experience and less on finding the perfect balance between "gas" and "brake."
Let's not forget about luxury features, either. While capability is a top priority, comfort and convenience are important, too. That's why Ford includes available heated and ventilated seating, leather interior, and even a panoramic sunroof.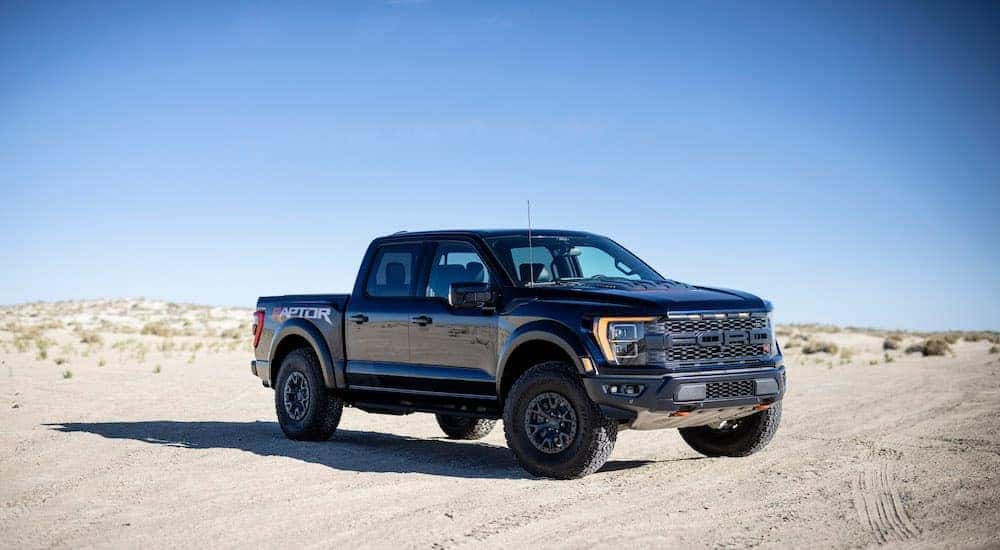 The 2022 Ford Raptor: The Raptor R
Remember how we said that drivers love the first-generation Raptor because of its loud V8 engine? The new Raptor R gives those folks exactly what they've been asking for—a 6.2-liter supercharged V8 that is expected to produce up to 702 horsepower. The Raptor's only downfall in the past was that it couldn't keep up with the Ram TRX, but thanks to the Raptor R, the Raptor actually outperforms the TRX. Ford has not released official details on the Raptor R, so there is still a lot that's unknown. What we do know for certain is that this version of the Raptor will offer more power than ever before—even more power than the first-generation Raptor can produce.
Which Raptor Is Best for You?
Let's be honest here—the brand-new Raptor R is impressive, but it's not going to be very budget-friendly. There's definitely a population out there that's been waiting for the powerful, race-capable V8 engine, but that's not what practical off-roaders have to have. The Raptor is designed for off-roading, and every second-generation model can easily tackle the sand, mud, and trails. The best way to choose your used Raptor is based upon your budget. It's important to remember that just because the 2017 Raptor is older doesn't necessarily mean that it'll be cheaper. You must factor in the model's condition, its mileage, and which add-ons and packages it comes with. That's why we're here to help. Our Ford experts can help you pinpoint which Raptor model suits your individual needs and, more importantly, which one fits your budget. Contact us today.