How to Elevate Your Lansing Commute in One Easy Step: Drive a Bronco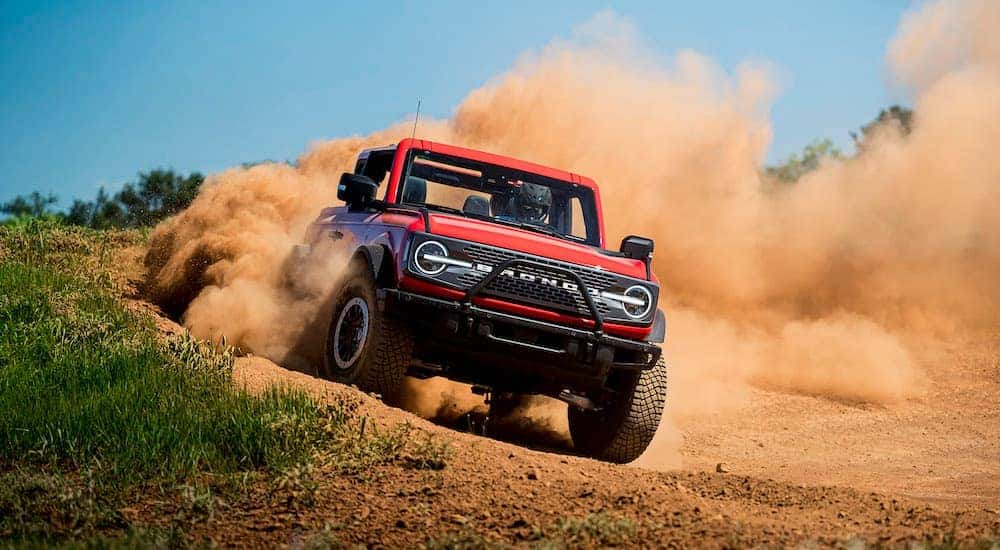 It's hard to play favorites when you live in the city that's not just the capital of Michigan but considered by many to be one of the most legendary sites in automotive history. After all, this is the town where Ransom Eli Olds allegedly built the first gasoline-powered engine, which quite literally sparked the corporate drama that still tops the charts in the automotive industry. However, this is not another re-telling of the fascinating Olds Town tales. Instead, we'd rather talk about how Lansing is a city filled with people who are passionate about their vehicles and have been for over a century. And people who are passionate about driving could do themselves a huge favor and visit their Lansing Ford dealer so they can get around Lansing in a Bronco sooner rather than later.
The Bronco is manufactured at Ford's Michigan Assembly Plant in Wayne, but it's more than a hometown hero. In fact, it's more than an SUV. It's more than an off-road-ready mud beast. It's not that we're playing favorites, per se; it's just that the newest generation of Ford Bronco is one of the most exciting vehicles to hit the streets of Lansing in a long time. Here's why Lansing drivers like you will love the Ford Bronco.
What Makes a Bronco a Bronco?
It's hard to define the new Ford Bronco as just one thing because it's designed with all drivers in mind. Sure, it has the advantage when it comes to leaving the pavement behind, but it's also remarkably well-behaved when zipping down city streets and navigating the highways in and out of town.
At the center of this multi-talented SUV is a selection of engines that are tuned not just for off-road driving but for all types of driving. The base engine is hardly basic—a 2.3L 4-cylinder that offers 300 hp and 325 lb-ft of torque. Paired with a standard 7-speed manual transmission that accommodates the 6 familiar gears and a crawl ratio, drivers may also select a 10-speed automatic transmission instead. Those craving a little more excitement can opt for the twin-turbocharged 2.7L V6 selection. Paired exclusively with the 10-speed automatic transmission, this engine provides a smooth 330 hp and 415 lb-ft of torque.
Furthermore, the fuel economy of these engines is very suitable for driving in central Michigan and beyond. Given the number of potential engine, transmission, trim, and package selections, there are a lot of variables that go into the Bronco's overall fuel consumption. However, drivers who select the base model and standard engine can enjoy up to 21 MPG on the highway. Drivers who select the 2.7L engine can get up to 20 MPG on the highway, as well.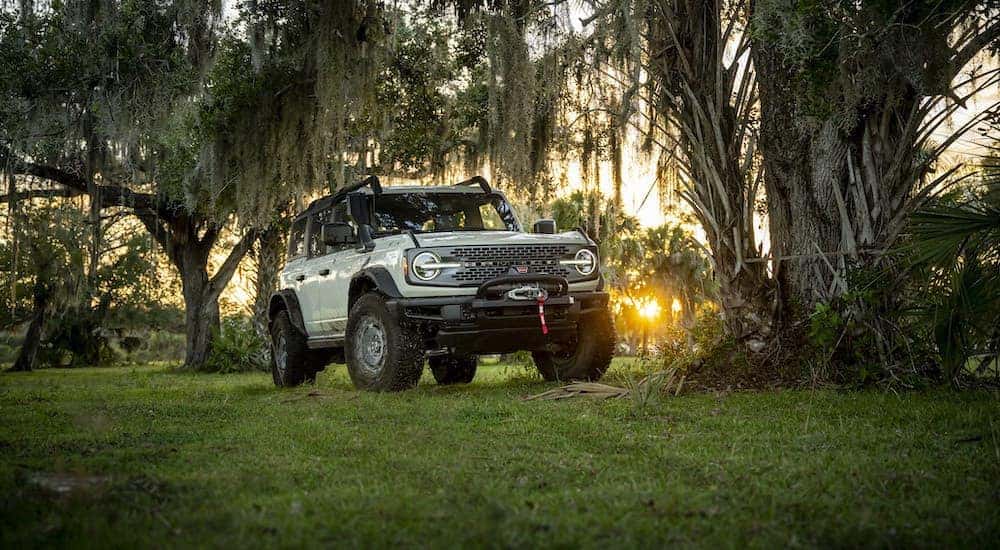 More Than the Sum of Its Parts: Exclusive Bronco Features
The Ford Bronco may have plenty of brains and brawn, but its true passion lies beyond the pavement, where a mighty engine is only part of the equation. Many drivers underestimate the off-road possibilities in Michigan. Some joke that the only time we get to hit the mud is when our freeway exit is closed. But the truth is that we have a fantastic cache of wilderness throughout the state, with many thriving off-road clubs and communities looking for exactly the ruggedness provided by the Ford Bronco.
After all, you only have to drive a few miles beyond city limits to find pavement that turns into gravel. Beyond that lie forests, dunes, rocks, and mud as far as the eye can see. While exploring the majestic landscape of Michigan is amazing, no matter how you get there, it would probably be more fun to interact with it directly from behind the wheel of a Bronco.
But Why a Bronco, Specifically?
The Ford Bronco comes factory-equipped with a range of features that make it ideal for the road less traveled. For example, all Broncos include standard four-wheel drive, but the technology goes much deeper than that.
Each Bronco comes with a standard High-Performance Off-Road Stability Suspension (HOSS) System. There are 4 versions of this system, each available on specific trims. HOSS 1.0 provides a passive damping system, heavy-duty dampers in front and rear, and coil-over springs at the rear axle and A-arms. HOSS 2.0 adds Bilstein Position Sensitive Dampers with end-stop control valves and an independent front suspension. HOSS 3.0 brings with it FOX Live Valve 3.1 Internal Bypass Semi-Active Dampers and severe duty Ford Performance steering rack and tie rod ends. HOSS 4.0 is reserved for the Bronco Raptor and adds position-sensitive damping to the FOX Live Valve technology, as well as integrated front reservoirs and remote rear reservoirs.
These features should be thrilling for off-road enthusiasts, but what do they mean to the average driver? After all, not every driver needs the 47.2-degree approach angle offered by the Bronco Raptor. Essentially, these are the types of features that will help off-road drivers control their vehicles when passing through difficult terrain, allowing them to navigate over, around, and through obstacles with greater articulation while maintaining control. For those who prefer the pavement and occasional country road, this means a smooth, steady ride and greater control when things get slippery during the winter months.
A Full Array of Broncos
Over the years, the Ford brand has become associated with an almost intuitive ability to create just the right vehicle for nearly every driver. From the Ford F-150, one of the world's most customizable trucks, to cars and SUVs with exactly the right trim levels and optional packages to help drivers create their own ideal experience behind the wheel. The Ford Bronco is no exception.
While each Bronco has the ability to "climb every mountain and ford every stream," as the song goes, they don't necessarily have to go completely wild. As any Michigander knows, rain, snow, and ice are a very real thing up here, and it doesn't take too much for one to turn into the other at the drop of a hat. Selecting a Bronco means you've got the added traction and protection when the elements get severe, and Ford's commitment to building vehicles that fit a variety of drivers means you have plenty of choices.
The 2022 Ford Bronco lineup includes 8 thrilling trims: the Base, Big Bend, Black Diamond, Outer Banks, Badlands, Wildtrak, Everglades, and Raptor. Each trim has its own personality, as well. The Base is a trail enthusiast equipped to enjoy regular outings, while the Black Diamond proves its intentions with a rubberized floor that features drain plugs in case things get very wet or muddy. The Outer Banks has a few premium extras, such as heated front seats and optional leather trimming, while the Badlands includes Marine-grade vinyl seats.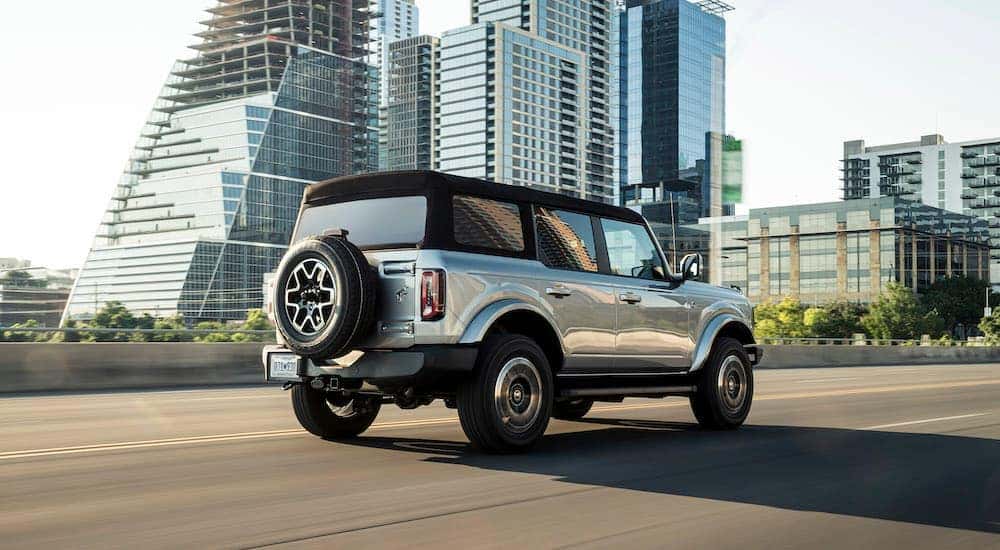 Ford also offers a variety of packages that can be tacked on to the standard Bronco offerings. The Sasquatch Package has gained perhaps the most notoriety, thanks to its 17-inch beadlock-capable wheels, 35-inch Mud-Terrain tires, electronic-locking front and rear axles, and high-clearance fender flares. The Lux Package adds top-shelf features you might expect on a luxury SUV, including a 10-speaker Bang & Olufsen audio system, adaptive cruise control, a heated steering wheel, and a wireless charging pad. The Mid Package includes a full suite of safety and driver assistance features, like Ford's Blind Spot Information System, Automatic Emergency Braking, and Auto High-Beam Headlamps.
Can I Really Get Around Lansing in a Bronco?
The beauty of the Ford Bronco is that it was designed to help those who are truly passionate about driving get around just about anywhere. Whether you're looking for something that makes you feel a little more secure once the snow flies or ready to head into some major off-roading in every corner of the state, the Ford Bronco is engineered to help drivers enjoy their time behind the road just a little more.
With powerful engine options that rival most current SUVs, the Bronco is certainly capable of getting you from point a to point b with minimal fuss, I-69 traffic permitting. And with its off-road-ready suite of features, you might be tempted to make your own route home—though you should be aware that there are legal ramifications for doing that sort of thing. Still, the Ford Bronco is a name that has resonated in the automotive community for decades, providing drivers with a sense of release from the day-to-day commute and giving us the freedom to explore further, enjoy more, and drive as far as the eye can see.